Dangerous goods: Why do I need to use a specialist carrier?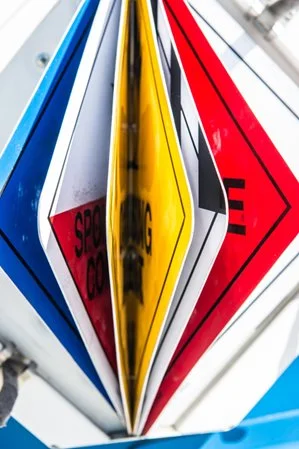 The penalty for incorrect dangerous goods transport can be up to $500,000 per company AND per individual.

ANYONE involved in dangerous goods transport must comply with their responsibilities in regards to packaging, labelling, documentation, segregating, and carrying dangerous goods documentation.

A specialist dangerous goods carrier such as Chemcouriers has an experienced professional team dedicated to the safe management of your dangerous goods and hazardous substances.

Chemcouriers is the only Responsible Care PRINCE Gold (Premises, Inspection and Certification) Accredited Dangerous Goods Carrier in New Zealand.
What are Dangerous Goods?
Dangerous goods are classed as any solids, liquids or gasses that can harm people, property or the environment. They can be:
Radioactive
Flammable
Toxic
Explosive
Corrosive
Oxidizing
Biohazardous
Asphyxiating
Pathogenic
Allergenic
Further details on dangerous goods and hazardous substances are available.

If you are unsure whether you have dangerous goods, contact Chemcouriers now.
What Equipment Is Necessary For Handling Dangerous Goods?
Chemcouriers uses Land Transport Safety Authority (LTSA) approved specialised dangerous goods transport equipment such as:
Truck bodies constructed to LTSA bus roll-over standard
Mezzanine decks on our linehaul units to avoid crushing and damage
Cages and bins to protect smaller dangerous goods
Multiple load locking devices, to minimise movement during transit
Emergency Response equipment in all our depots and on all our vehicles
Protect yourself against a $500,000 fine. Contact Chemcouriers now.
Dangerous Goods Training
All of our team have on-going training in the safe handling and distribution of dangerous goods
All of our owner drivers and depot team have dangerous goods qualifications
To assist our owner drivers, team, customers and the public, Chemcouriers offers a range of training services
Chemcouriers is registered to provide your dangerous goods driver licence endorsement
Want to sit your dangerous goods licence endorsement? Contact our Training Team.
Chemcouriers Advantages
We utilise multiple modes of transport to achieve the best combination of transit time, cost, safety of your dangerous goods
We operate a dedicated dangerous goods transport network free of food products, with purpose- built vehicles, specialised cages and segregation devices
We save you money by efficiently and legally transporting various classes of dangerous goods throughout New Zealand, because we have the capability to carry multiple classes of dangerous goods within the same vehicle
We maintain full control of your freight consignments from collection to delivery, giving you peace of mind that your transport are moving professionally, legally and safely i.e. you won't be fined up to $500,000
This means you can:
Reduce your legal liability - we know the rules and we are the dangerous goods experts
Save time – our FremanWeb software will create your dangerous goods declarations for you
Access our specialist knowledge and training - from our dedicated training centre and professional training team
Feel secure - we have a 24 hour emergency response capability when your freight is moving with us
Dangerous Good Warehousing
Our specialist dangerous goods warehousing facility provides an integral supply chain solution and comprehensive inventory management system for all your dangerous goods.
Find out more