School Leavers
Being young is no barrier here. It's all about passion and having smarts.
Are You Finishing School And Looking For A Career?
As a potential Mainfreight team member you can expect professional development based around your unique mix of skills and talents. We're big on identifying and growing your personal strengths – and helping you work on any gaps. Whatever it takes, you'll get the opportunity to grow with Mainfreight.

You'll work in an environment where assuming responsibility, challenging and making decisions is encouraged. Show us what you've got and we'll help you prepare to take on any role in the business.
One thing you can count on, if you put in the effort and have the right attitude, you'll go places!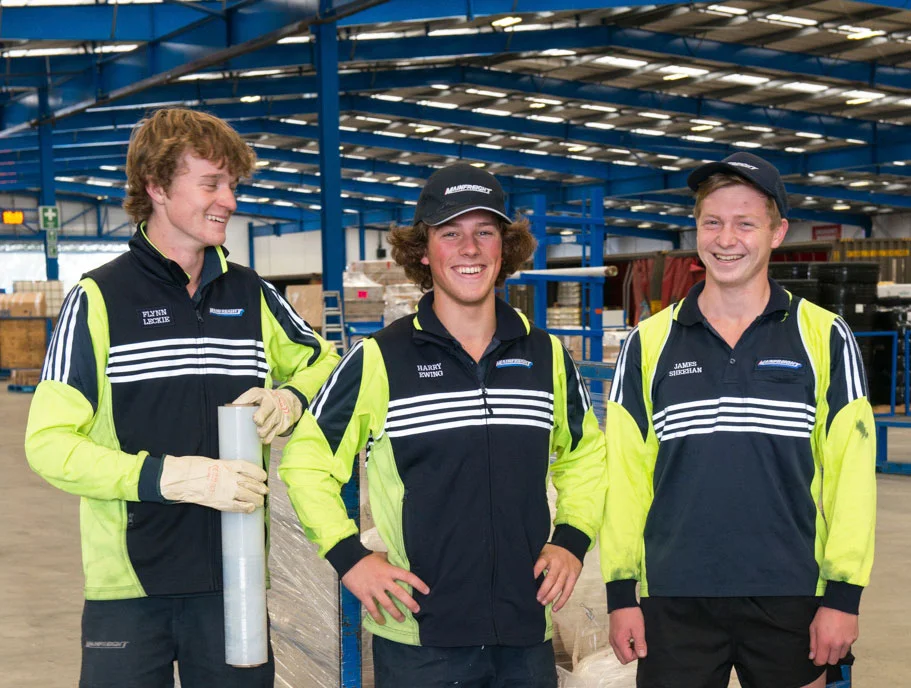 Are you leaving school and not sure about your next step?
Joining us straight out of school means you'll be starting a career – not just a job. Being in the operations, you'll learn the nuts and bolts of our business. Loading freight into trucks and trains, coordinating with international customers importing and exporting freight into or out of New Zealand, picking and dispatching orders around the country - these are a few of the different responsibilites you might get stuck into when you start with us.

You'll be working alongside people who have been in your shoes and want to see you succeed and make your mark. Here your success will come through hard work and passion. You'll be a valued part of the team from day one. So rather than watching from the sideline, you'll be expected to contribute, challenge and get actively involved in decision making. If you've got the right attitude, enthusiasm and a willingness to learn, we can teach you the rest.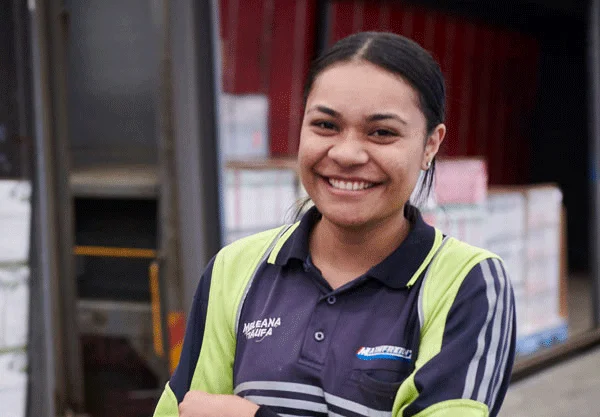 Who are we looking for?
At Mainfreight, we value individuality, personality, attitude, and guts. While what you learnt at school is important, we're just as interested in your sports and hobbies, your part-time jobs and what makes you, you. We believe these are the qualities that will help us take Mainfreight to the world.

If you're a person who's hungry to learn, grow and be challenged, you've come to the right place. In return for your hard work and dedication, you will be rewarded with the kind of security and on-going career opportunities that only a world-class company like Mainfreight can offer.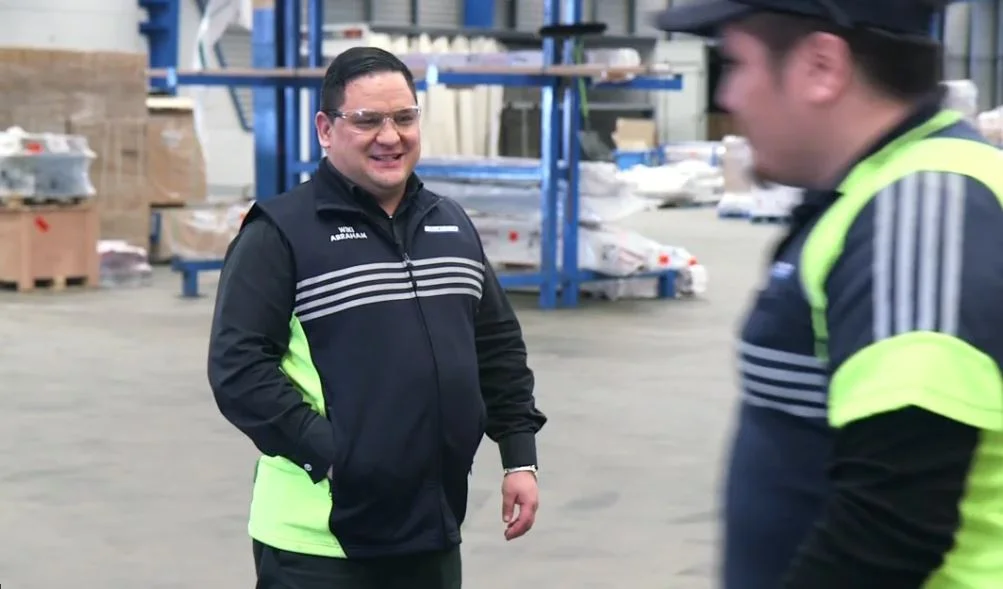 Meet Wiki
Wiki has been a part of our team for 15 years. He came straight out of school and joined the family in blue and has never looked back!
If you've got the right attitude, everything else can be taught. At Mainfreight we look for the future leaders. We try and coach them to realise the potential that they might not be aware of.
Application And Interview Tips
What should I put in my CV?
This is your opportunity to detail all the cool things you have been a part of, the skills you have, and the activities you have done.
Tell your story, highlight your achievements, show your personality and what makes you special.
It's important to show us in your application who you are, what are your hobbies and interests.
Things to include:
Favourite subjects in school and why
Previous work experience e.g. mowing lawns, baby-sitting, paper run
Your skills and achievements
Sports you play
Clubs you are in
Any responsibilities or jobs you do at home or church
We are looking for people who have a great attitude, know the value of hard work, and what it means to be well-rounded and interesting.
What should I put in my Cover Letter?
We like to see applications that make the connection between Mainfreight and themselves, it is important that we are important to you:
What excites you about working at Mainfreight?
What makes you a good fit for Mainfreight?
What are your aspirations and goals?
What sets you apart from everyone else?
What should I talk about in the interview?
If you're keen to be part of the Mainfreight family, tell us why. Show us how you would fit in by being comfortable asking and answering questions about Mainfreight. We want to know why Mainfreight is where you want to establish your career. What spins your wheels about us?
What should I wear to an interview?
Although the interview process is relaxed and less formal than a typical company, we still expect professionalism. We expect you to be well presented, dressed in a shirt / suit / similar, polite to our team and punctual. It's not rocket science; it's a matter of manners.
Where will your interview be?
We will give you the address, make sure you look it up on Google and know exactly where to go because we want you to feel comfortable and settled when you get there. Make sure you know where to go and how long it will take you to get there.
What should I remember?
Everything you do is a self-portrait of you. Autograph your work with quality:
Check your spelling and grammar
Have someone read over your CV for a fresh set of eyes – check everything makes sense
Is everything you want to share in your Cover Letter or CV?
Make sure it looks easy to read – use paragraphs and clear sentences
No text language!
Frequently Asked Questions
What is the key to success at Mainfreight?
The key to being influential in these areas is to utilise the time on the floor and learning what makes our business tick. If this sounds like something you can throw yourself into then look no further than Mainfreight. So what does life at Mainfreight look like? From driving a forklift to working with experienced team and managers, to leading a team – you will be involved in the full range of business and supply chain management activities.
What is on offer?
As a Mainfreight school leaver, you'll be working in one of the world's most exciting, diverse and fast-paced industries. With a philosophy of 'promote from within' we're committed to growing today's school leavers into the leaders who will take the business forward - both here and around the world.
How will my career progress?
Our philosophy is to recruit and 'grow' our own people, rather than hire people from other businesses. That is why we invest in and manage the long-term growth and development of our people, right from the start.

Once you have learnt the fundamentals of Mainfreight on the operations floor, you will move into other areas of the business where you will get the right mix of autonomy and support. We believe that smart people can learn the specifics of any role so our focus is on helping you develop personal and professional skills that will allow you take on any role in the business.

We are an ever-changing business and we are constantly reviewing new ways to help our team develop the world-class skills that will lead our business into the future.
What training and development is on offer?
We understand that our biggest asset is our people and that our growth as a business is only limited by our ability to grow our own people. Our training and development strategy reflects this with structured induction, training and development. The Mainfreight difference is that we focus on helping you develop the professional and personal strategies, tools and life skills to step into any role in the business, anywhere in the world.
Our ongoing team development programmes around the world currently includes:
A full induction programme
Learning the business from the operations floor-up
Structured leadership programmes
Personal development courses