Customer Web Portal - Mainchain
Through Mainchain we are able to provide global visibility to our customers of their entire supply chain across all regions and divisions within our business.
Why you need Mainchain?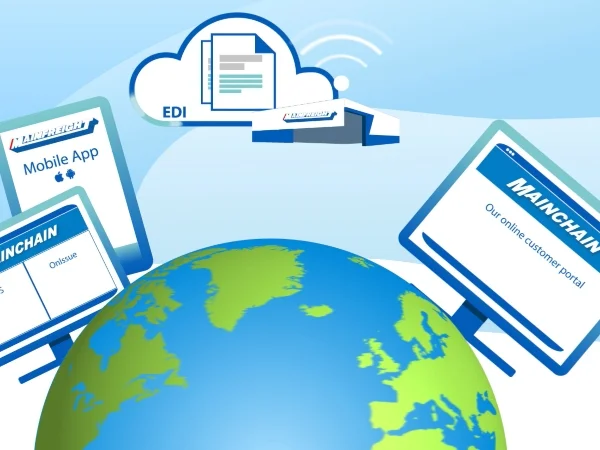 Global Visibility
Our global online customer portal 'Mainchain' provides all the tools you need to manage your supply chain, anytime, anywhere.
Access Real Time Data
Mainchain provides an instant view of all your current activities across all services in real time, 24/7.
Control User Access
With administration rights you can:

Add / remove users
Individually personalise and restrict access so each user can view and manage different areas of your company's global supply chain
Reset passwords for each user
Store Documents
Upload, access, share and print key shipment documentation. Documents are stored for 7 years and can be viewed and downloaded as a PDF when needed.
Set Up Notifications
You can configure notifications to be sent to you at specified milestones avoiding the need to constantly track shipments.

Keep your suppliers and receivers connected by setting up notifications for them. They are easy to read, packed with useful information and can be sent via email or SMS.
Manage Freight Costs
Access your invoices and statements and download in PDF as needed.
Create Reports
Within Mainchain you can analyse your supply chain by customising reports with filters. Create reports on demand or scheduled as required.
Link Our Systems (EDI)
Through EDI integration you can directly link your systems to ours for total visibility and control within your own business environment. EDI Intergration will:

Save you time
Improve accuracy by removing data entry
Eliminate time spent training your team on a new system
Stay On The Go
Our free mobile app allows you to keep on top of your supply chain direct from your smartphone. Log in with your Mainchain password to access your freight information. Filter by milestone or date range for easy access to the information that is important to you.
Air & Ocean Technology
Want to learn more about the value Mainchain brings our Air & Ocean Customers?
CLICK HERE
Domestic Transport Technology
Want to know more about the value Mainchain brings our Domestic Transport Customers?
CLICK HERE
Warehousing Technology
Want to know more about the value Mainchain brings our Warehousing Customers?
CLICK HERE
Mainchain Video Guides
Helping video to help you with Mainchain