Urgent Courier
Do you have a shipment that needs to be delivered today? Urgent Courier handles shipments that have to be loaded and unloaded the same day, 24 hours a day, 365 days a year.
Mainfreight Urgent Courier & Special Services is always ready for you.
We understand better than anyone that confidential handling of documents or goods must be reliable and fast. If you need to send a shipment at the last minute, you can always contact Mainfreight Urgent Courier. This courier is always available for something as small as an envelope, but also for a box, pallet or complete load.
24/7 rush orders
Do you have a shipment that needs to be delivered today? Urgent Courier handles shipments that have to be loaded and unloaded the same day, 24 hours a day, 365 days a year. Thanks to our extensive European courier network, we offer a solution for every transport problem. Mainfreight Urgent Courier takes care of your urgent shipment with great care and attention. Transport that is under time pressure requires effective, fast and correct handling. You can find this combination at Mainfreight Urgent Courier.
From our own "Urgent" warehouses we can deliver goods urgently 24/7. This allows us to deliver shipments in various sectors such as Aerospace, Automotive, or Maritime sector directly from our locations at various locations within Europe.
European network
Since their establishment in 2001, Mainfreight Urgent has built up its own network of reliable & high-quality couriers. For example, Urgent Europe-wide has access to 3,500 sprinters, who can load & unload at any time of the day and can drive directly from their destination to every corner of Europe. It is therefore possible to charge within 2-3 hours after order confirmation (max. Sprinter).
European emergency journeys based on a single journey
By using a European-wide network, unlike a traditional Dutch courier, only the distance is calculated based on a single journey. This way you benefit even more from the strength of the Mainfreight Urgent network. Due to the nature of the urgent shipment, it will in most cases involve direct transport. If desired, you can also impose a comprehensive ban on us.
Why choose Mainfreight Urgent Courier
Personal contact with professional planners, 24 hours a day, 7 days a week
European network
Extensive fleet from a passenger car to a truck (tractor and trailer)
European emergency journeys based on a single journey
Experience in ADR & conditioned urgent shipments
Tracking & tracing your urgent shipment 24 hours a day, 7 days a week
Customs handling of your urgent shipment
Global Airplane Chartering
Worldwide On Board courier (also third-country transport)
Goods transport insurance
ADR transport
Do you have an urgent shipment with ADR goods? Mainfreight Urgent Courier specialises in transporting ADR urgent shipments throughout Europe. This can be as small as a box, but also a complete truck full of hazardous substances.
The Transport of Dangerous Goods Act forms the basis for the regulations for the transport of dangerous goods by road. Mainfreight Urgent Courier is an experienced certified transporter of (environmentally) hazardous goods. Mainfreight has a number of specially trained safety advisors who are ready to give advice. In addition, drivers are of course trained and certified to enable the transport of (environmentally) hazardous goods and our fleet is specially equipped for this.
Mainfreight Urgent Courier transports all ADR classes with the exception of:
Class 1: Explosive substances and articles
Class 6.2: Infectious substances
Class 7: Radioactive substances
Conditioned transport
Temperature controlled transport involves the transport of a frozen, cooled or heated load. You can go to Mainfreight Urgent Courier for your conditioned urgent shipment if this concerns normally packaged commercial goods. We also have various options in combination with ADR.
All our vehicles are equipped with temperature registration systems, with which a comprehensive report on the temperature trend during the journey can be drawn up. We take care of your conditioned shipments throughout Europe.
On board courier
In some industries, Mainfreight Urgent Courier relies on delivering critical time shipments such as spare parts, samples, prototypes and important documents to the right place and time, anywhere in the world.
After the order, the courier will personally pick up the shipment from you as quickly as possible. After this, the courier departs directly to the nearest airport where the "first flight out" is taken to the place of destination.
By using the on-board courier you can be sure that the shipment will never be forgotten. In this way you do not run the risk that your valuable shipment will remain somewhere or disappear without a trace. The couriers of Mainfreight Urgent Courier are in possession of various current visas, so that a fast delivery can take place.
Our services:
Door to door
Door to airport
Airport to door
Airport to Airport
After delivery, if desired with identity check, you will receive a delivery confirmation from us.
Requirements for on board courier
We take your shipment on board if your goods meet the following requirements:
No dangerous goods (ADR)
Maximum weight of 20 kg.
Maximum dimensions: 40 x 35 x 25 cm (lxwxh) If your shipment is larger than we will ensure that the shipment is loaded in the luggage compartment. The courier will guide your shipment throughout the entire process.
No hazardous substances (ADR)
Maximum weight 20 kg.
Maximum dimensions: 120 x 50 x 30 cm (lxwxh) (travel case size)
Global plane chartering
If fast is not fast enough and a shipment within Europe or the world must be delivered the same day or really the next day. Then aircraft chartering comes into view and the shipment is quickly loaded on the next commercial flight to the final destination.
With the worldwide network of Mainfreight we can ensure that your shipment is delivered the same day to anywhere in the world.
Single point of contact
One single point of contact, for all your European shipments, who understands your business. This combined with pro-active communication.
Distribution network
Your products are controlled through our comprehensive European partner network ensuring high efficiency in deliveries to any country in Europe.
Local expertise
Our local branch network means we understand your business, make fast decisions and recognise opportunities which simply aren't apparent when doing business at a distance.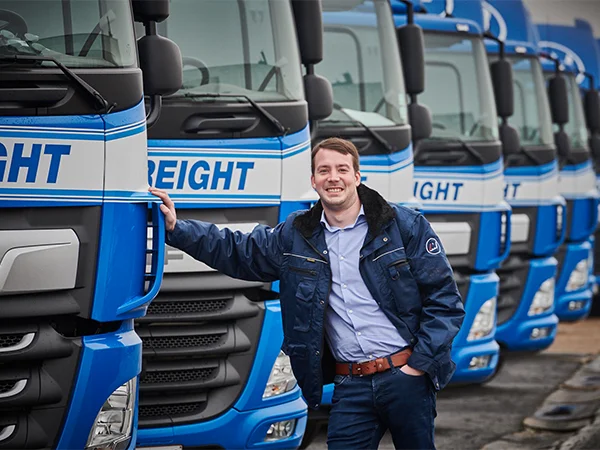 Contact us
Free Shipping Quote

Ready to start shipping with us, ask for a shipping quote

Ask a quote

Ask a question

Do you have a question about our services, please feel free to get in touch with us

Enquiry

Get in touch with us

Talk to one of our branches to get more information about our services

Contact us
Quote of the Day
Experience is a hard teacher. She gives the test first and the lessons afterwards.