International groupage
Delivery of groupage shipments from Europe to Ukraine
The European Union is a major economic partner of Ukraine and delivery of small shipments from Europe is one of the most popular service in the trend of the last two years, when the cooperation between Ukraine and the EU reached a new level. Especially this service is interesting for many Ukrainian importers in 2016 due to the entry of Ukraine into the free trade zone with the European Union and reduction of customs duties on many goods as well as cancellation of the additional duties for the import to Ukraine.
Delivery of different size consignments as LTL is a convenient solution, because It makes it possible to shorten the time of delivery and reduce logistic costs for trading companies which need to get a variety of shipments.
Mainfreight Ukraine provides delivery of consolidated cargoes to Ukraine from the European Union countries, Scandinavia, the Baltic states and Turkey. This solution allows our customers to receive their shipments in any quantity and at the right time, which contributes to a significant reduction in logistics costs and, consequently, gives them a competitive advantage in their markets.
With an extensive network of Mainfreight, own fleet of Mainfreight (1,500 trucks), modern warehouse premises and professional approach of our team we can guarantee a full range of high quality "turnkey" service - from collection of the goods at their consignor in Europe to delivery of the customs cleared cargo to the final consignee in Ukraine.
Scheme of delivery:
We consolidate various consignments from different countries on our consolidation platforms for Ukraine in 's-Heerenberg (The Netherlands) and Pruszkow (Poland), where they are checked, stored and prepared for sending to Ukraine. On a customer request there is a possibility to provide additional service at our warehouses in The Netherlands, Belgium, France and Romania, such as repacking, sorting, marking and labeling according to the instructions of goods' owners.
Our experienced customs broker can check the documents of the consignor before the goods are shipped, arrange prior notification or declaration for the goods to pass the Ukrainian border and provide customs clearance of the goods in Ukraine, after which the goods will be delivered to any part in Ukraine to warehouses of the consignee, and in case of large loads - directly to the stores. If necessary, the goods can be placed in the bonded warehouse or temporary storage warehouse.
Schedule of delivery from Europe:
Departure weekly Thursday-Friday. Delivery to Kiev every Monday and Tuesday.
Our advantages:
Independent regular groupage lines through our own European network;
Free storage for 3 days in Poland, 5 days – in The Netherlands;
Preparation of export documents for the cargo;
The "turnkey" service from a single source;
"Door-to-door" delivery to any part of Ukraine;
Regular monitoring of the service quality together with the customer;
Ongoing work on the improvement of the customers supply chain;
Liability insurance of logistics provider;
Experience in delivery of cargoes from Europe to CIS countries for more than 20 years;
Experience with complicated goods: clothing, cosmetics, spare parts, food additives and others;
We work with customers and partners in accordance with our philosophy of "Easy to deal with".

Established schemes of traffic, advantageous location of storage platforms in Europe and our professional team guarantee delivery of your goods on time and at competitive rates!
Single point of contact
One single point of contact, for all your European shipments, who understands your business. This combined with pro-active communication.
Distribution network
Your products are controlled through our comprehensive European partner network ensuring high efficiency in deliveries to any country in Europe.
Local expertise
Our local branch network means we understand your business, make fast decisions and recognise opportunities which simply aren't apparent when doing business at a distance.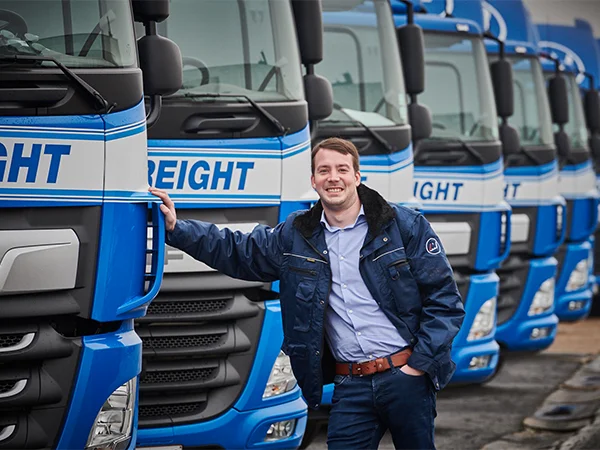 Contact us
Free Shipping Quote

Ready to start shipping with us, ask for a shipping quote

Ask a quote

Enquiry

Do you have a question about our services, please feel free to get in touch with us

Ask a question

Get in touch with us

Talk to one of our branches to get more information about our services

Contact us
Quote of the Day
To succeed in life, you need three things: a wishbone, a backbone, and a funnybone