09 August 2023
Mainfreight Thailand Warehouse | Opening
In line with our strategic business expansion in Southeast Asia, it is with great pleasure that we announce the grand opening of our first Mainfreight operated Thailand Warehouse KM.19 Warehouse on 22nd July, 2023.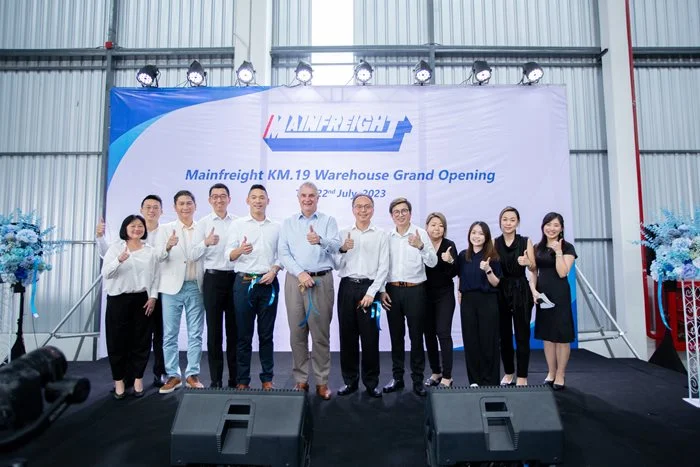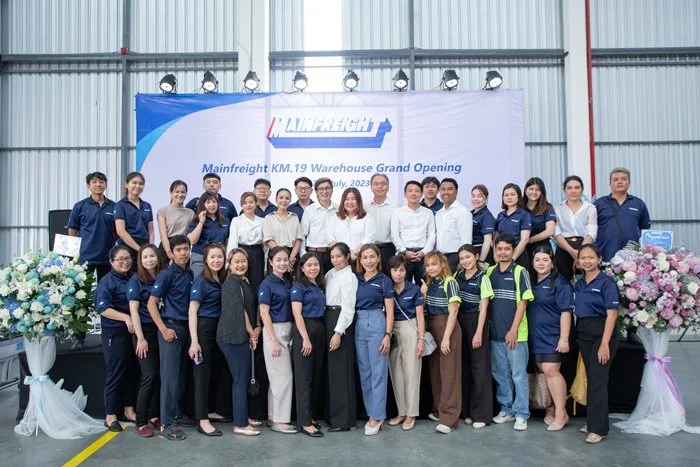 Our Thailand warehouse is strategically located along the KM.19 Highway in Bangna Trad, one of the best logistical locations in Thailand. It is located very close to two seaports and two airports in Thailand, as well as six industrial estates.
To Airport & Seaport

Distance

To ICD & Industrial Estate

Distance

Suvarnabhumi Airport

Bangkok Port

Don Muang Airport

Laemchabang Port

17 km




23 km




60 km




90 km

Bang Phli Industrial Estate

Wellgrow Industrial Estate

Lad Krabang ICD & Industrial Estate

Amata City Chonburi Industrial Estate

8 km




25 km




33 km




50 km
The warehouse is 4,352 SQM and is fully equipped with racking systems. Key services include re-palletizing, re-labelling, pick & pack, quality check and other services to add value in your supply chain needs.

Key Facilities include
• Ambient Storage 2,460 Pallet Locations
• Air Con Storage 450 Pallet Locations
• 4 Dock levelers
• Co-packing Area
• Staging Area
• Own in-house WMS systems (MIMS) with EDI integration
• RF Scanners
• Sprinkler System
• 24-hour Security Guard and CCTV Monitoring Systems
We warmly welcome any interest in exploring the opportunities that partnering with our Thailand Warehouse can bring to your business. For further information on our top-notch services in Thailand, we invite you to reach out to us through the following contact information:
jiradthaditK.tum@mainfreight.com or call +66 88 6987 891.

Please see additional contact details for our other Thailand offices
Mainfreight Thailand Warehousing
Mainfreight Bangkok Airfreight
Mainfreight Bangkok Ocean freight
Mainfreight Laem Chabang Sales Office
Mainfreight Thailand Warehouse | Opening
We are delighted to share the exciting news of our new Warehouse in Thailand!
To see more about our Thailand warehouse opening, please click on the video play button

Find out more about some of our services
Ask a question
Do you have a question about our services, please feel free to get in touch with us
Enquiry
Get in touch with us
Talk to one of our branches to get more information about our services
Contact us