Mainchain
Portal rantaian bekalan global kami yang selamat untuk pelanggan Mainfreight di seluruh dunia. MAINCHAIN mencari semua sistem kami untuk mendapatkan maklumat mengenai pergerakan barang antarabangsa.
Portal Web Pelanggan - Mainchain
Mainchain adalah portal rantaian bekalan global kami yang selamat untuk pelanggan Mainfreight di seluruh dunia.
Kenapa anda perlukan Mainchain?
Ini adalah satu kedai sehenti anda untuk pengurusan pengangkutan. Dengan semua alat yang anda perlukan untuk menguruskan rantaian bekalan anda di mana saja, pada bila-bila masa, meningkatkan produktiviti anda. Bebas biaya tanpa pemasangan perisian yang diperlukan.
Penglihatan menyeluruh untuk semua aspek rantaian bekalan anda
Integrasi secara langsung dengan semua sistem dalam rangkaian global kami, anda mendapat pengesanan kargo
Maklumat yang kerap digunakan - pengirim, penerima, produk, carian dan laporan, disimpan dan tersedia
Apa yang penting untuk anda?
Maklumat pengangkutan anda di hujung jari anda:
Peribadikan papan pemuka anda dengan hanya butiran yang penting
Sesuaikan laporan dengan penapis
Simpan tindakan ke kegemaran anda untuk akses pantas
• Sebut Harga dan Buat Penghantaran Online
Sebut Harga secara dalam talian membolehkan anda menganggarkan kos sebelum menempah penghantaran anda
Tiada panggilan, e-mel atau faks diperlukan. Cukup masukkan butiran penghantaran anda dan dihantar ke sistem kami di seluruh rangkaian bekalan: pickup dan penghantaran domestik, penghantaran antarabangsa, pesanan logistik dan banyak lagi
Cetak semua dokumen dan label yang anda perlukan
Pengurusan Pengangkutan
Atas permintaan atau akses berjadual kepada laporan utama, trend dan analisis
Penglihatan masa sebenar penghantaran antarabangsa dan domestik anda
Pantau stok anda di gudang kami di seluruh dunia
Pemberitahuan penghantaran anda dari penciptaan hingga penghantaran
Capaian yang cepat dan mudah kepada bukti docket penghantaran
Lihat kos pengangkutan bulanan anda dengan akses dalam talian ke invois dan penyata
Mendapatkan Akses ke Mainchain
Apa yang anda perlukan adalah akses ke internet dan log masuk dan kata laluan. Pengurus akaun anda akan menyesuaikan Mainchain kepada keperluan perniagaan anda. Isikan borang ini untuk memulakan proses dan anda akan mendengar dari pasukan kami tidak lama lagi.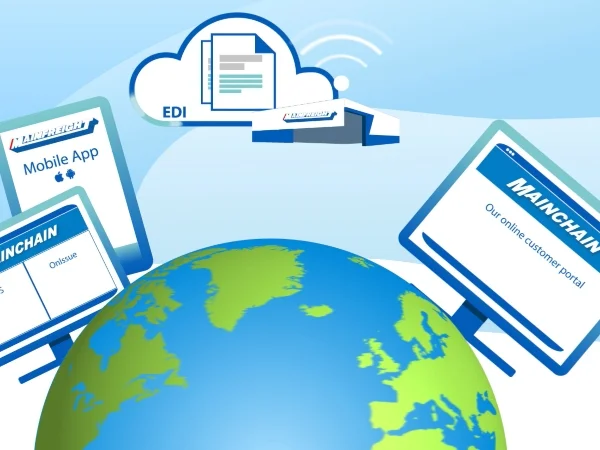 Global Visibility
Our global online customer portal 'Mainchain' provides all the tools you need to manage your supply chain, anytime, anywhere.