09 October 2023
Solar Panel Trucks – Paving the way to a greener future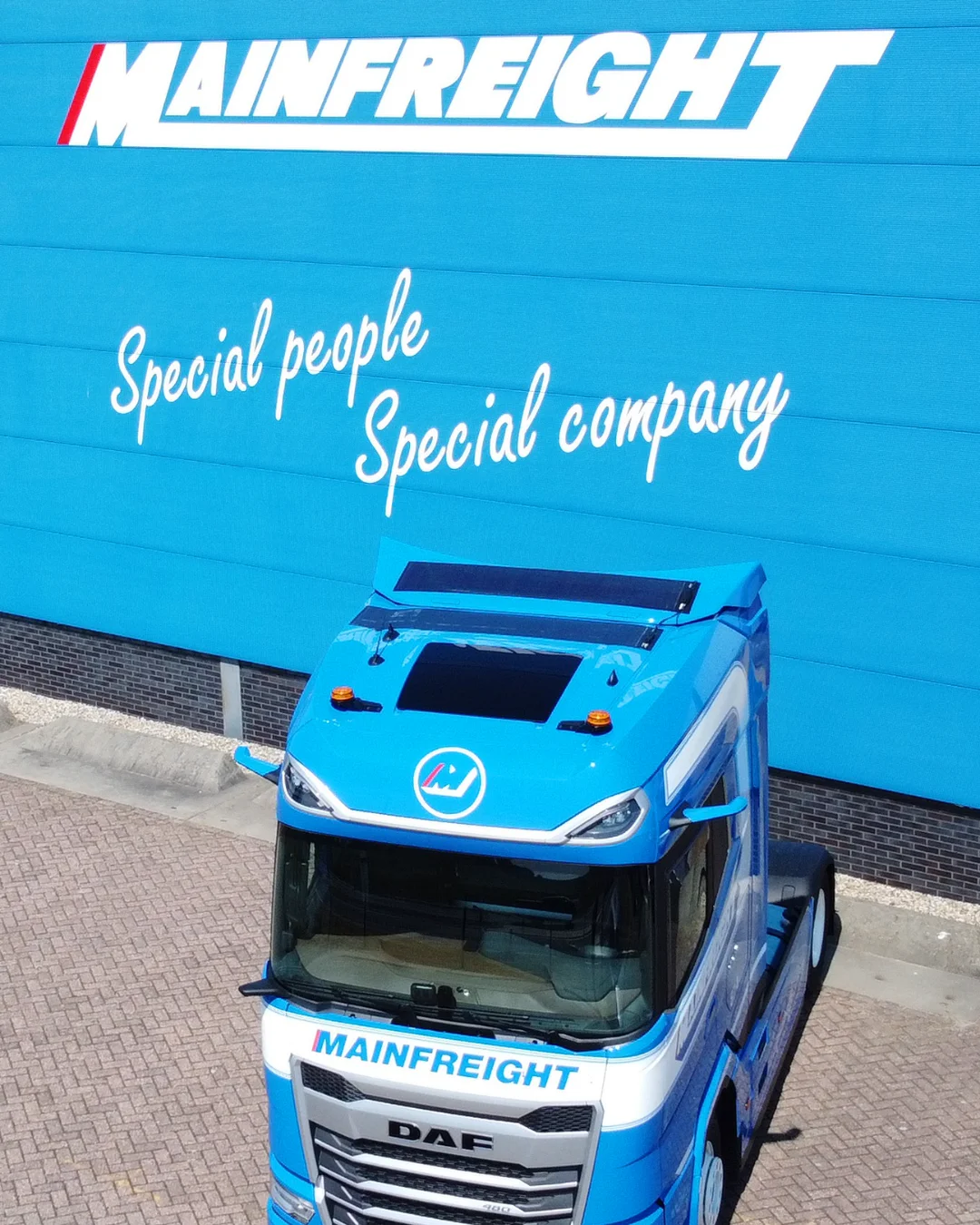 In a world increasingly aware of the environmental challenges posed by traditional fossil fuels, innovation is key to reduce our carbon footprint. One remarkable innovation that holds promise for a sustainable future is the advent of solar panel trucks. These vehicles are equipped with solar panels on their roofs, transforming them into mobile power stations and offering a glimpse into a greener, more sustainable transportation sector.
Koen Geerts, one of our transport specialists, begins: ''Important to understand is that the trucks that we have equipped with solar panels are regular euro 6 (emission class euro 6 E) diesel trucks that are used for international transport throughout Europe. These are not be confused with Battery Electric Vehicles (BEV).''
Koen continues: ''There are a few reasons why we chose to test these solar panels on a total of 10 new DAF XG+ international trucks. Namely, to reduce CO2 emissions as well as fuel consumption and to extend the lifespan of the truck's batteries.
During the workday, there are several times that our international drivers are waiting to load and unload, and at the end of their workday, they often spend their nights in the cabin of their truck. Our trucks are equipped with stationary heating and cooling, fridges, and other necessities, which all consumes a lot of power during these waiting and resting moments. To provide this power, the truck idles a lot just to keep the batteries charged. With these solar panels, the batteries get charged while the truck is parked and thus reduces the fuel consumption and CO2 emission as the truck's engine can be switched off. While driving, the solar panels also generate electricity, which means that the trucks alternator doesn't have to generate so much power which again saves fuel.
The future of Solar Panel Trucks is bright
We asked Koen how many solar panels it takes to charge a truck. He answered: "We use two solar panels, mounted on top of the cabin, with a total power rating of 160 WP. These solar panels do not require more maintenance that the normal trucks. Actually, they reduce the maintenance, expand battery life, and reduce idling hours and engine wear.''
Solar panel trucks represent a significant step towards a greener and more sustainable future for the transportation industry. As our world seeks to combat climate change, solar panel trucks are paving the way toward a more environmentally friendly and sustainable transportation sector.