06 December 2021
Service Announcement | 06 December 2021
Overview
There continues to be high demand for space and equipment for both import and export cargo. We continue to urge customers to provide forecasted volumes 6-8 weeks in advance.
Pressure remains on south-bound bookings from many parts of the Northern Hemisphere. We continue to receive notices from carriers announcing blank sailings, alternative port calls and cost increases. These are being communicated to affected customers.
Significant schedule and congestion issues continue to affect major port hubs. Further regional detail is provided below.
Ad hoc space is being provided to Mainfreight from a number of shipping lines who are receiving late cancellations for exports from New Zealand. This means extra capacity is available, if cut-off's can be met. We will continue to offer this space to our existing customers as it becomes available.
Shipping lines continue to promote their 'SPOT' functionality for online bookings, this service provides confirmed space on specific voyages. We expect there to be an increased number of container slots allocated to 'SPOT' bookings moving forward.
3PL Warehouses locally are working at over 100% capacity with significant pressure on the domestic freight market on the lead up to the summer period. Please allow for additional days for moving consignments to final destination.
Export
Reefer equipment stock is at critical levels with some carriers refusing bookings into January. Alternative options are available.
Services remained limited from Auckland Port due to congestion both locally and on earlier voyage legs.
Import
Space constraints have improved on import legs from both China and South East Asia. Mainfreight continues to be provided appropriate space and allocation by key shipping line partners.
The introduction of new shipping lines on the China to Oceania lane has provided welcome competition to the market.
LCL
Our LCL consolidation services are continuing to provide solutions for our customers for regular replenishment of their inventory levels. With Mainfreight operating consolidation services to and from Asia, Europe, USA and Australia we are well-positioned to assist our customers' requirements.
Airfreight
With most peak season ocean freight cargo having now departed origin ports, expected peak-season space pressure is starting to mount on airfreight supply chains
Please plan for delays and allow additional time for transit, especially for airfreight shipments requiring a stop-over somewhere in order to complete connection.
We recommend allowing between 5-7 days of additional transit time on any airfreight shipments transiting through Asia (Hong Kong, Singapore, Taiwan), Middle East (Dubai, Qatar) or the USA.
Please try and book as early as possible to enable our team the best chance to find an option to ensure your receive your goods in time.
Despite space pressures we do have good options available connecting shipments through our own global airfreight gateways. Wherever possible our consol services between our gateway hubs rely on direct flights to avoid the potential for airline offloads.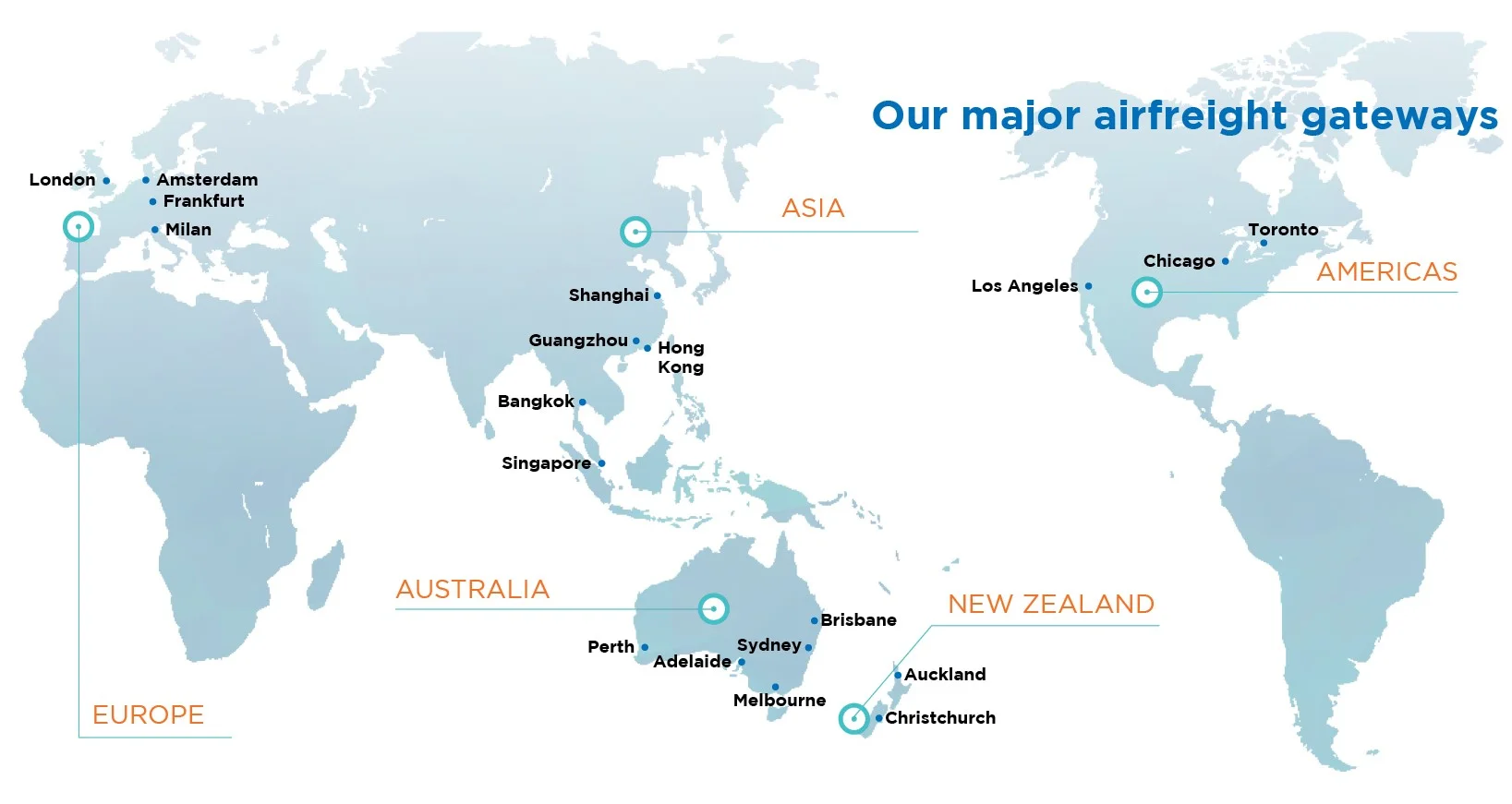 Foreign Market Summary
Asia
Summary of current congestion is below, based on major port hubs.
Tranship services in Singapore and Port Klang continue to have prolonged delays ranging from 10 to 30+ days.
Power outages continue to influence different regions in China. We have seen longer manufacturing lead times influence container volume over the last 6 weeks with some carriers reducing rates from some ports.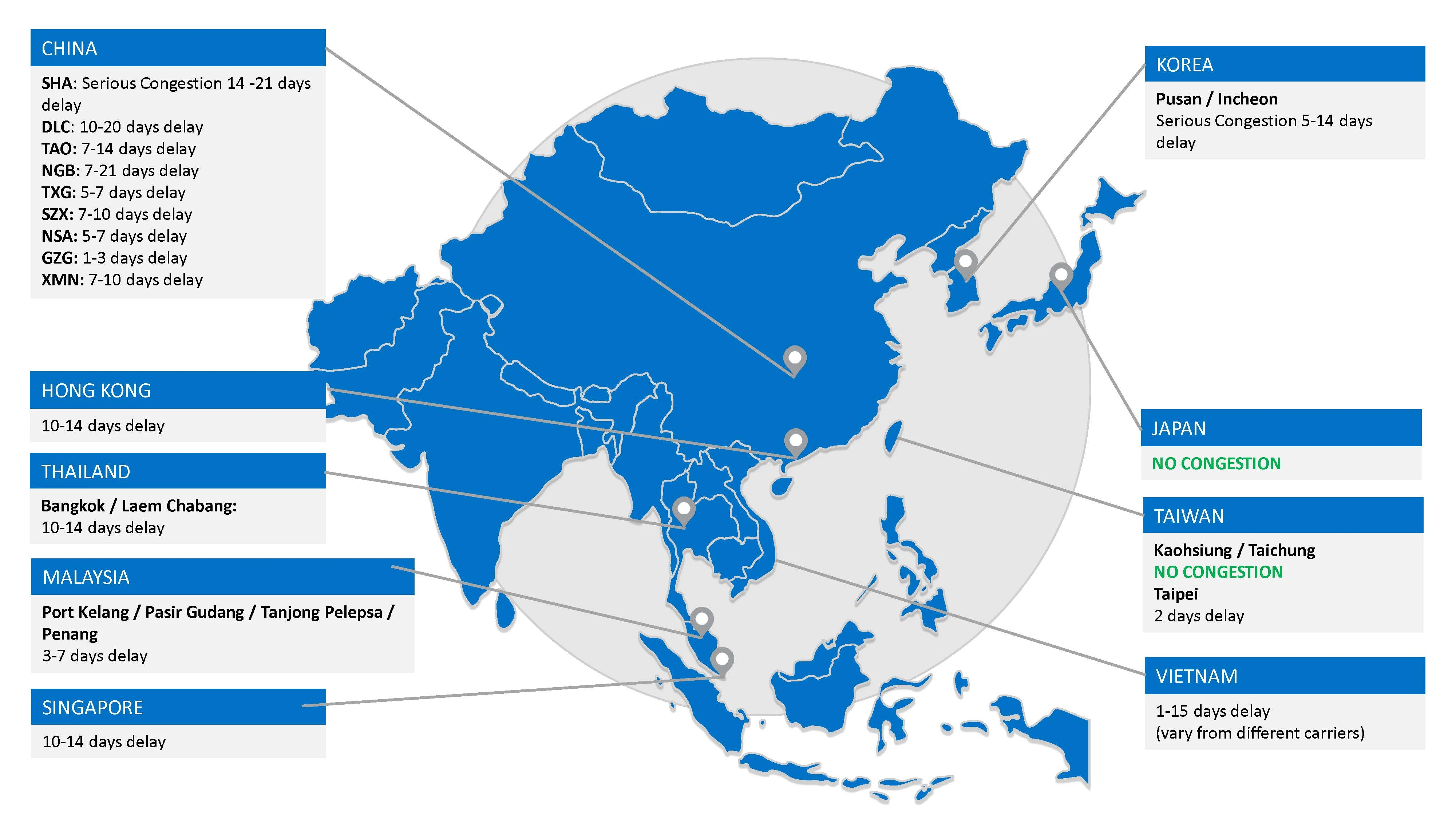 Australia
Australian exports continue to be congested with overbookings due to on-going import demand & delays on deep sea schedules. Carriers also continue to implement GRI's to combat reduced space availability. Please provide your local Mainfreight office with forward forecasts where possible.
Americas
Congestion on both the East and West coasts of the United States continues to hinder cargo flows for both import and export cargo.
Long Beach port has between 60 – 80 vessels awaiting berth windows. This congestion slows outbound voyages to New Zealand and delays NZ export cargo arriving into market.
Significant inland pressure remains with rail delays and trucker shortages also contributing to congestion. Our local Mainfreight offices are working hard to ensure appropriate inland services are available to our import and export customers in the US.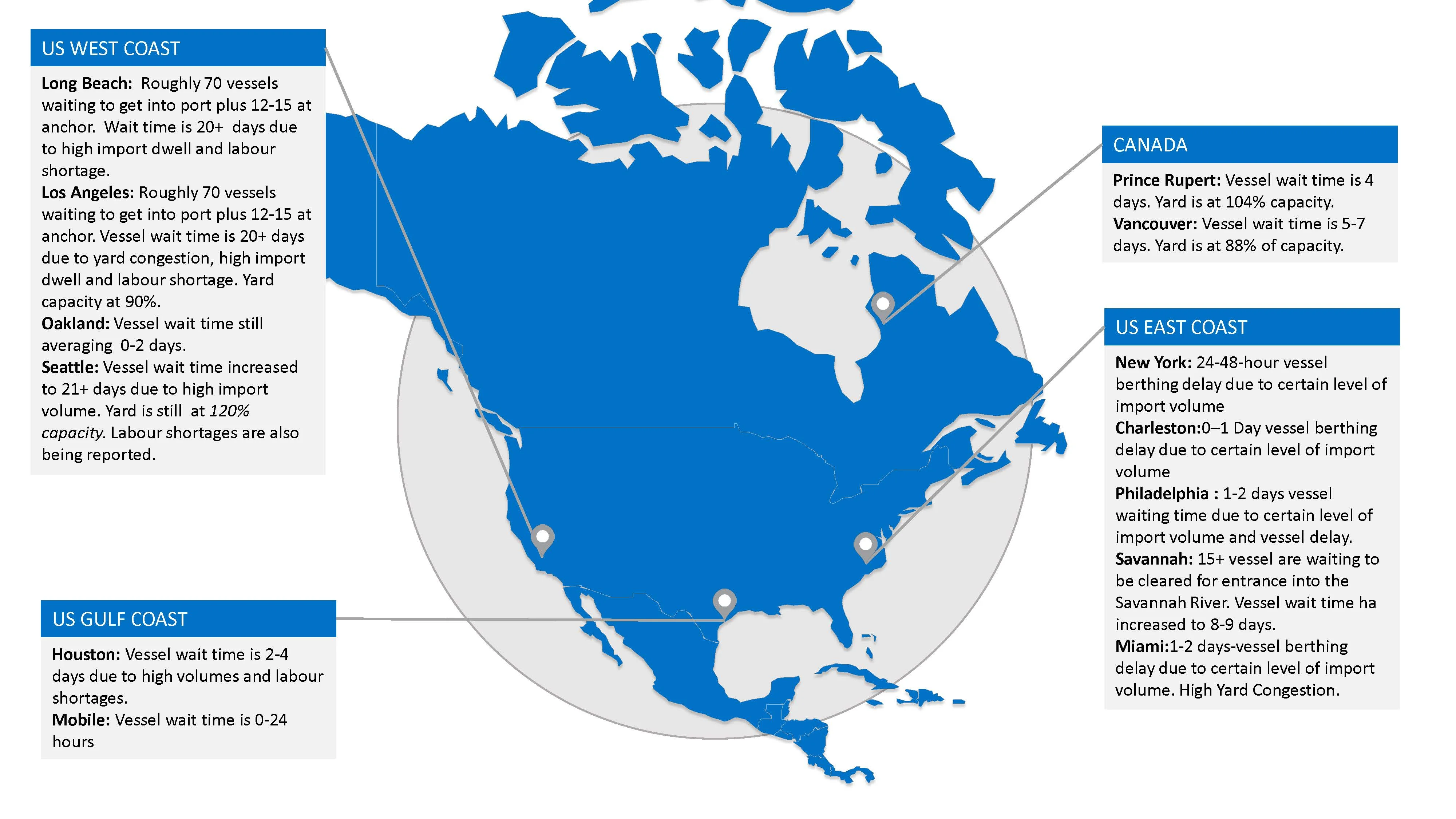 Europe
Export routings to Europe continue to be limited. We can provide options but continue to request forward forecasts.
Significant tranship congestion in all major tranship hubs continues to effect European origin shipments. Please allow for up to 4 weeks additional transit.
Alternative Ports of Origin can be considered as equipment stocks varies at major ports – your Mainfreight Account Manager can help you with this option.
GRI Summary
Please see below cost adjustments affecting both import and export shipments to and from New Zealand. We continue to receive updated rates from carriers on a regular basis. We are regularly engaging with shipping lines to discuss increased allocations and challenging market competitiveness for our customers. A link can be found here to our
LCL Sailing Schedule
with details of upcoming vessel options for both import and export sailings.
| | | | | |
| --- | --- | --- | --- | --- |
| Origin | Destination/Via | Value | Effective | Details |
| India | NZ | USD 10.00/CBM | ETD 15/12/2021 | GRI |
| Belgium/Hamburg | Lyttelton | USD 10.00/CBM | ETD 15/12/2021 | GRI |
| All Origins | NZ | NZD 3.00/CBM | ETD 15/12/2021 | Port Charges Increase |
| NZ | All Destinations | NZD 3.00/CBM | ETD 15/12/2021 | Port Charges Increase |
| NZ | Noumea | USD 2.00/CBM | ETD 1/1/2022 | GRI |