04 April 2012
Mainfreight Wellington Depot Opens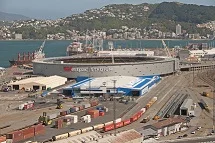 Mainfreight Wellington's new facility was officially opened on Wednesday 21st March 2012 by the Prime Minister of New Zealand, Mr John Key.
The first sod for this new $15 million depot was turned on 15 October 2010, and almost a year later, on 17 September 2011 the team moved in to their brand new, state of the art facility. Mainfreight Wellington's depot at 81-87 Aotea Quay, Wellington is home to both Mainfreight Transport and Mainfreight International .
This new facility also offers Mainfreight International's customers an International Warehouse which is Customs Bonded and MAF Approved. This Mainfreight International Warehouse currently processes an average of ten 40 foot containers per week of import and export freight in this new International Warehouse. Advantages for our customers utilising our International Warehouse means that Mainfreight Wellington's International Warehouse, being a Customs Bonded and MAF Approved facility, can enable our customers can save time and demurrage costs.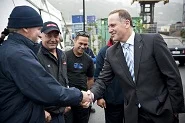 Mainfreight recognised the need to work closely with KiwiRail to offer the advantages of better access to more rail services in New Zealand and with new Mainfreight facilities being built at, not only at Mainfreight Wellington but also Mainfreight Invercargill and Mainfreight Palmerston North, and further investment being made in Mainfreight Christchurch, Mainfreight Hamilton and Mainfreight Blenheim, these new facilities will all be rail served. This brings the total number of Mainfreight rail served facilities to 13.
Don Braid Mainfreight Group Managing Director said "To our team here in Wellington, thank you for your commitment and passion for this new facility, you have done us proud. To our customers, thank you. It is your support that allows us to reinvest in our business".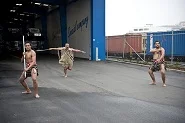 "Whilst Mainfreight continues to grow around the world, with businesses in China, Singapore, Hong Kong, Australia, the United States, Chile, Netherlands, France, Belgium, Germany, Poland, Romania and Russia, we are still very committed to New Zealand and are prepared to invest important capital into our facilities such as this new Mainfreight Wellington depot".