13 July 2021
Relocation of our Lyon Air & Ocean branch
Our Air & Ocean Lyon has settled in a new office.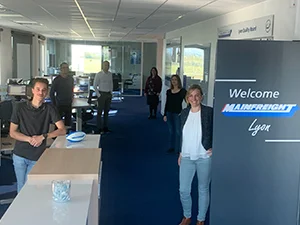 Our team is still located in the Lyon St. Exupéry airport area, but is now only 2 kilometres away from the cargoport. The Lyon St. Exupéry cargoport handles over 600 tonnes of freight a day, is a major express freight gateway with more than 20 flights on a daily basis, and is less than 1 km away from the European motorway network.
In our effort to go sustainable, Air & Ocean Lyon invested in a 100% electric car to travel between the airport, the office, and the port.
The hands-on mentality of our team assures correct handling of the full spectrum of Air- and Ocean Freight Services throughout France, as well as global import and export.
For more information regarding our Air & Ocean Lyon Branch, please contact Sandra Brun, Branch Manager, via email Sandra.Brun@fr.mainfreight.com or dial +33 (787) 049 540.