14 November 2022
LCL Ocean Freight from Shanghai to the United Kingdom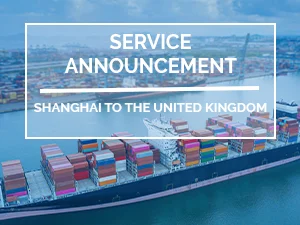 We are excited to announce our new LCL Ocean Freight service from Shanghai to the United Kingdom.
With this new LCL service, we consolidate and manage your shipment from
Shanghai (Shanghai Port) to London
(Felixstowe)
within our own Mainfreight global network, with flexible final delivery options all over the United Kingdom.
Our LCL service is a cost effective solution to move more frequently, in varying quantities, allowing you to meet the fluctuating demands of your customers and markets. Our direct service, loaded at origin in our own Mainfreight facility by our experienced team, minimizes the chance of delays at transshipment ports and the need for additional handling.
By notifying our team when your order is placed, our local team can liaise directly with suppliers at a purchase order level, monitoring your order to completion and ensuring timely delivery to our loading facility.

Local Customer Service & Local Brokerage Team
With our local customer service team in the United Kingdom, we can make decisions as close to customers as possible. This provides timely, accurate information on shipment status, and will reduce the time your team may spend on the phone chasing down responses. Door to door, 24/7 tracking is also available for you and your team via our online platform Mainchain and our mobile app for Android and Apple users.
Our experienced in-house brokerage team can assist with seamless clearance of your goods into the United Kingdom, including assistance with Biosecurity requirements and settlement of duties and taxes with HMRC. With the recent changeover to the new CDS entry system in the United Kingdom, our team can also help your business change from CHIEF to CDS with ease.
Characteristics LCL from Shanghai to London
Cut-off: app. 5 days to prior ETD
Transit time: app. 30 – 33 days port to port
Frequency: Bi-weekly
Added Value: Greater control and visibility, cost effective, with flexible final delivery options all over the United Kingdom
Facts & figures
Port of Felixstowe
The port handles more than 4million TEUs (Twenty-foot Equivalent Units) and welcomes approximately 2,000 ships each year
Around 17 shipping lines, offering 33 services to and from over 700 ports around the world
Unrivalled rail and road links connection
Shanghai Port CN
One of the most important Chinese gateways for foreign trade
The port occupies an area of almost 4km2
542.46 million tons of cargo in 2019
43.3 million TEU in 2019
Interested in our new service?
If you are interested or you would like to know more about this new service, please get in touch with our local Mainfreight team.
Contact us