28 February 2013
Gold Coast Freight is on the Move
Queensland's freight is booming and we are implementing new developments to ensure a first class sustainable service to our customers. With branches in Townsville and Sunshine Coast growing strongly and a huge new facility being built in Brisbane; we are now happy to announce our move into a new larger branch for our Gold Coast team.
In just over 2 years our Gold Coast branch has seen exceptional growth and in response we have sourced a new depot with plenty of room for our Gold Coast team to facilitate the fast pace service that is demanded in the Sunshine state.
What This Means for Gold Coast Freight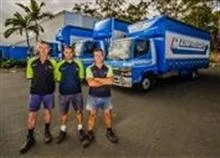 The bigger Gold Coast depot is confirmation that we are constantly reviewing and improving our entire logistics network and reinvesting for the future to ensure we are developing our capability and service in Queensland and throughout Australia.
Our new location in Molendinar has convenient access to the Pacific motorway and puts us close to main arterial roads. The bigger depot is complemented by 3000sq hardstand with premium drive though access for our B-Doubles and other large vehicles to control the efficient and effective handling of freight.
Josh Wood our local Gold Coast Sales Executive notes "our expanding branch network is driven by a need to control quality and expand our end to end supply chain capabilities."
This move to a bigger depot does not only promote growth in the Gold Coast area, but also frees up resources around our Brisbane branch to support growth in all areas of Queensland.
Gold Coast Global Supply Chain
With both International and Domestic teams located at our Gold Coast branch we are ideally located to offer a seamless end to end global supply chain service. Our Air and Ocean team offer a full suite of services including door to door import and export services worldwide. Our Gold Coast based drivers enables a same day service offered within the Gold Coast region and next day service guaranteed to Sunshine Coast and Brisbane metro regions.
Our team at Mainfreight Gold Coast and settled in at their new branch ready to give our customers the service the Gold Coast region demands.