13 September 2016
Customer case Trust
The collaboration between Mainfreight and Trust, a value for money-brand for digital lifestyle accessories, has been established in July 2015. The international family business used an intensive tender process to find a logistics service provider with a large network who could respond to peaks and short lead times in their sales channels. From a list of dozens of logistics service providers, Trust finally chose Mainfreight. This was partly due to their flexibility, personal approach and the value for money they offered.

Extensive services
Initially, Mainfreight organised warehousing, order picking and value-added services such as the handling of returns, and the handling of containers of incoming and outgoing goods via the ports. Trust utilizes warehouses in The Netherlands, Spain and Italy. After a successful start period, the collaboration quickly expanded to include European road transport to achieve greater flexibility and shorter lead times.

Global supply chain solutions
Trust recently started using Mainfreight's ocean freight services from China. Containers are collected from Trust's factories and shipped to Europe via Shenzhen. In case of partial loads, the goods from various suppliers are consolidated at the Mainfreight hub in Shenzhen prior to transport. This has lead to an optimisation of the container load and resulted in a cost saving for Trust. The containers from China are then transported to the warehouses in The Netherlands, Spain and Italy. Mainfreight also recently established a dedicated warehouse for Trust in Shenzhen that serves customers in the United States as well as the direct region. Mainfreight's global supply chain solutions and commitment are central to its collaboration with Trust.
Various sales channels
Trust sells an extensive range of more than 300 products which are sold via direct and indirect sales channels. Trust Smarthome, also known in The Netherlands as KlikAanKlikUit, provides consumers with home automation systems. In addition, the indirect sales channel is represented by retailers, from local businesses to larger (online) stores like Mediamarkt, Coolblue and Bol.com and also the German Kaufland and the worldwide sales channel, Amazon. High quality lifestyle accessories for PC, tablet, SmartTV, smartphone and gaming are sold via this indirectchannel. Orders are processed and distributed via the warehouses and European distribution network of Mainfreight.



Logistics flexibility
Various peaks arise in Trust's sales process which require logistics flexibility. Orders of various sizes arrive until late in the afternoon which need to be shipped the same day. Mainfreight responds to these peaks and short lead times by using team members and space flexibly. Since the start of the collaboration, Mainfreight has broken records in the number of processed orders. Mainfreight's flexibility, professionalism in the commercial phase, its international network, the similarities in culture and vision and Mainfreight team members' personal approach are of enormous added value.

Support through innovation
In order to optimise Trust's order processing, Mainfreight invested in technological support with a put-to-light order pick system with pick carts and voice picking. These systems guide the order pickers to the right goods and orders by means of light signals and a voice picking system. The technologies have been developed to increase production and maintain quality with optimal flexibility.

A bright future
The collaboration between Mainfreight and Trust is a partnership characterised by trust, eagerness and transparency. The organisations frequently share strategies which leads to improvements in the supply chain. By being critical and challenging each other, services are continuously improved. Mainfreight and Trust are convinced of a bright future together!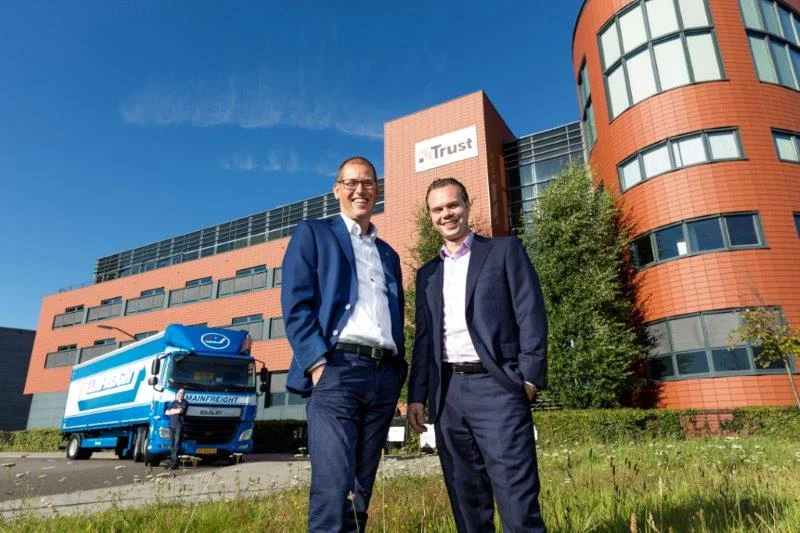 L-R: Rutger van Toor (Mainfreight), Alexander Hop (Trust) and Floris Proost (Mainfreight)