Express Transport
Fast and reliable transit times form the core of our European express distribution system
Express Distribution Belgium
Book your shipment before 10:30 a.m., we pick it up the same day and will deliver your shipment to Belgium within 24 hours! Furthermore, a time definite delivery before 12 p.m. to Belgium can be booked.
Do you have a shipment which has to be delivered in Belgium the next day? Don't look further as SystemPlus delivers your shipment to Belgium within 24 hours! This applies for transport of packages, multi-packages and (half)pallets from 1 to 3,000 kgs. Transit times apply from the day the shipment is picked up. In general, the transit time to deliver shipments to Belgium is 24 hours.
Additional services for Belgium:
Time definite delivery before 12 p.m.

Why Mainfreight Express?
Besides our fast and reliable transit times to and from Belgium, we also offer:
Book before 10:30 a.m. pick up same day
Shipments booked before 10:30 a.m. will be picked up the same day
Standard cargo insurance up to €50,000 per shipment
Carriers and forwarders are limited by law in their liability for damage and loss of shipments. For example, regular international shipments are only insured up to a maximum of € 9.50 per kilo (based on the CMR limit or AVC limit). If you do not have your own transport insurance, your shipments are insured via SystemPlus up to an amount of € 50,000. This means that light, valuable shipments with SystemPlus are much better, often complete, insured!
If you have a shipment with higher value of €50.000 we advice you to take a separate freight transport insurance policy. Pease contact our Insurance Team for more information. This way you can always have your shipments fully covered.
Dangerous Goods
Don't even think about sending any dangerous goods/hazardous material with anyone without the experience and certification to get it done right. You might be asking yourself: 'why do I need to use a Specialized Carrier?' Our teams are certified for air, ocean and road transport, handling and storage.
We can help create an easy way for you to comply with regulations, manage documentation and ship your dangerous goods safely and at the right price.
Daily departure
Daily departures from 's-Heerenberg on business days
One single point of contact
One single point of contact within the Mainfreight Express Team
Track & Trace
Extensive Track & Trace
Single point of contact
One single point of contact, for all your European shipments, who understands your business. This combined with pro-active communication.
Distribution network
Your products are controlled through our comprehensive European partner network ensuring high efficiency in deliveries to any country in Europe.
Local expertise
Our local branch network means we understand your business, make fast decisions and recognise opportunities which simply aren't apparent when doing business at a distance.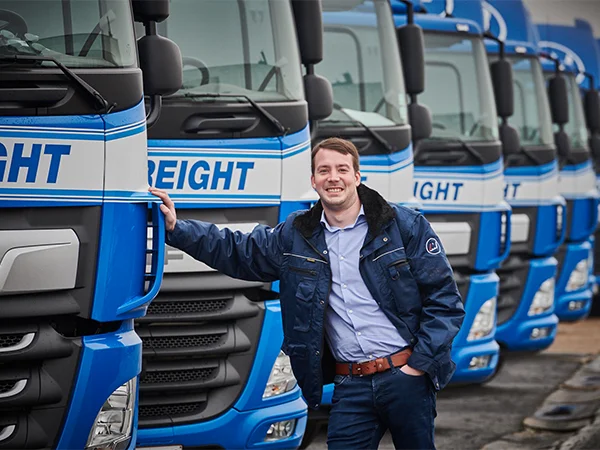 Contact us
Free Shipping Quote

Ready to start shipping with us, ask for a shipping quote

Ask a quote

Ask a question

Do you have a question about our services, please feel free to get in touch with us

Enquiry

Get in touch with us

Talk to our Express Team for more information

Contact us
Quote of the Day
It's easy to be nice when you are winning