Transport
Whether it is across the country or throughout Europe, having a reliable transport carrier is essential in running a successful business.
European Transport and Distribution Solutions
Road Transport is an important part of any supply chain. Whether it be around town or across the country having a reliable carrier is essential in running a successful business. Using an experienced carrier can minimise the stress and additional cost that doing your own transport can create. Paying for just what you need, not the downtime and empty space that you would with your own truck. They have the ability to reach destination across the country or region through their large network and are equipped to handle a variety of shipments with the use of their extensive fleet. From standard palletised freight and full truck loads to specialised services such as Trans Border transport, dangerous goods and home deliveries we have a solution to fit your needs.
Domestic Distribution
Mainfreight Romania has an own distribution network in Romania. From our locations in Ploiesti, Cluj-Napoca, Bacua and Timisoara your shipments will be distributed in Romania. From single pallet till part loads, we will take care of the optimal distribution of your goods.

Features of domestic distribution services in Romania
Daily pick-up and delivery within 24 to 48 hours*
Reliable and dense domestic distribution network
Experienced handling employees using modern equipment
Direct and efficient communication
Dangerous goods transport (ADR)
Transport of HACCP goods
Vendor Hub: consolidated in and outbound transport flows
* Some areas are 72 hours.
Groupage, Part & Full Truck Loads
Thanks to a strong network in both Western and Eastern Europe, we are capable of handling groupage transport from individual boxes, full pallets to part & full truck loads. We offer daily departures throughout Europe, short transit times and Tracking & Tracing including online POD.
Vendor Hub
The Mainfreight cross-dock in Ploiesti is situated at a geographically optimal location for domestic distribution.

Vendor Hub concept
Mainfreight arranges and executes consolidated shipments from multiple suppliers to all stores/distribution centers of 1 customer
Route optimization through cross-docking
Minimum number of deliveries at each of the customer's sites/ stores

Advantages Vendor Hub for the customer
Minimum number of deliveries and receipt activity at each store
Limited number of transporters and contacts
Lower transportation costs through synergy effects
Single point for consolidated deliveries for all suppliers
Inter-store traffic and return goods integrated in network
Assured quality and proven experience
Additional Transport Services
Courier & Special Services
Courier services for all your shipments, 7 days a week, 24 hours per day, also for hazardous goods. Special Services for all your special transports.
Additional Groupage Services
In addition to groupage, we also offer part and full truck loads, curtain sided and hard-sided trailers, temperature controlled transport, swan neck trailers, tautliners, combinations with interchangeable bodies and double deck trailers. Mainfreight has a total of 1800 transport units in Europe
Exceptional Transport
Project based transport for special and exceptional shipments.
Container Trucking
Container trucking services departing from the harbours of e.g. Constanta, Rotterdam, Amsterdam and Antwerp.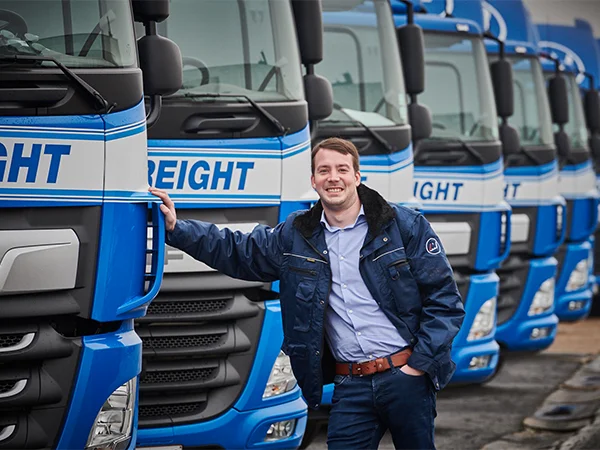 Contact us
Free Shipping Quote

Ready to start shipping with us, ask for a shipping quote

Ask a quote

Enquiry

Do you have a question about our services, please feel free to get in touch with us

Ask a question

Get in touch with us

Talk to one of our branches to get more information about our services

Contact us