Transport Spain
Mainfreight Poland is specialized in transporting goods to and from Spain. Thanks to our well-established and extensive European groupage distribution network , we are able to handle all your shipments smoothly. From small packages to pallets, from partial loads to full truck loads. We oversee the cargo entrusted to us at every stage of transport and will guarantee that we will reach your destination safely and on time.
As part of connections to / from Spain, we offer:
Collective transport (groupage) partial and full loads;
Departure twice a week;
Delivery of goods to the destination in Spain within 48h to 72h;
Short transit time;
Track & Trace tracking system.
Transport Spain | General information
Official language
Capital
Total area
Population
Currency
UTC
Web
Tel

: Spanish
: Madrid
: 505.992 km²
: 48.958.159 (2017)
: Euro
: +1 (summer +2)
: .es
: +34
Professional transport management
All our vehicles are equipped with CarCube devices - a satellite navigation system that facilitates communication between drivers, forwarders and dispatchers. CarCube is the most modern solution based on a GPS system, which enables more accurate route planning and improves the communication. Thanks to CarCube, we have access to information about routes and shipments in real time. Our forwarders always know where the vehicle is located, which shortens their response time in case of unforeseen situations. Using the CarCube system also reduces operating costs and costs related to the exchange of information. This means that we can focus on constantly improving the quality of our services for you.
Single point of contact
One single point of contact, for all your European shipments, who understands your business. This combined with pro-active communication.
Distribution network
Your products are controlled through our comprehensive European partner network ensuring high efficiency in deliveries to any country in Europe.
Local expertise
Our local branch network means we understand your business, make fast decisions and recognise opportunities which simply aren't apparent when doing business at a distance.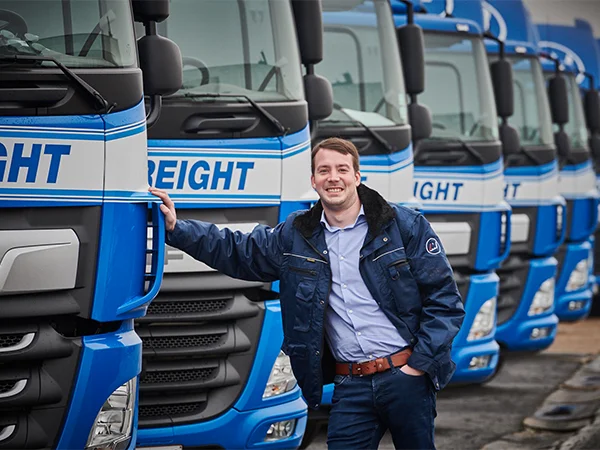 Contact us
Free Shipping Quote

Ready to start shipping with us, ask for a shipping quote

Ask a quote

Enquiry

Do you have a question about our services, please feel free to get in touch with us

Ask a question

Get in touch with us

Talk to one of our branches to get more information about our services

Contact us
Quote of the Day
A good laugh and a long sleep are the best cures