Ready for a career?
Apply now or contact us below with your questions!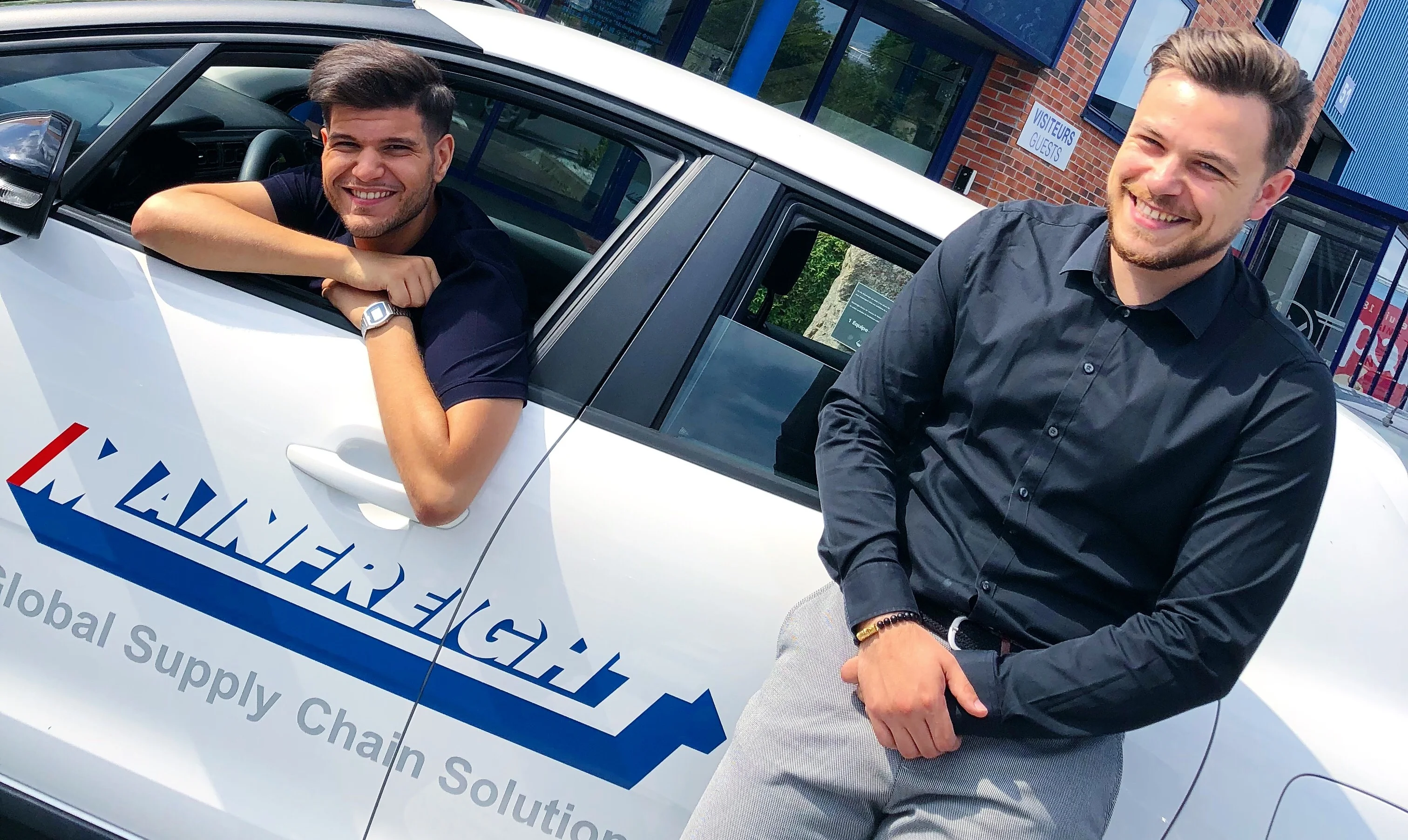 Sales Representative Frankfurt
Air Freight | Frankfurt, Germany

"Paint the World Mainfreight Blue"
Wir sind auf der Suche nach passionierten und erfolgshungrigen Mitarbeitern, die Teil unseres Sales-Teams in Frankfurt und damit treibende Kraft hinter unserem weltweiten Wachstum werden wollen.
Den Anfang nahm unsere Reise in den Siebzigerjahren mit einer kleinen Geschäftsstelle in Neuseeland. Seitdem hat sich Mainfreight zu einem globalen Logistikanbieter mit 260 Standorten in über 24 Ländern auf der ganzen Welt entwickelt.
Bedeutender Faktor für unser Wachstum war und ist eine starke Sales-Force. Diese wollen wir an unserem Standort in Frankfurt weiter ausbauen.
In ihrer Rolle als zentrales Mitglied unseres Teams erwarten sie u.a. folgende Aufgaben:
Neukundenakquise
Bestandskundenpflege
Netzwerkpflege
Pflege der Sales-Pipepline
Angebotserstellung
Bei diesen Aufgaben begegnen Sie globalen Marken, die wir entlang der Lieferkette bedienen. Die Geschäftsbeziehungen zu unseren Kunden zeichnen sich durch Nachhaltigkeit und einem partnerschaftlichen Verhältnis aus. Teil unserer Philosophie ist es gemeinsam mit ihnen zu wachsen. Dies erfordert eine Entscheidungsfindung, die auf Langfristigkeit, statt auf kurzfristige Profite ausgelegt ist.
Wir suchen passionierten Sales-Mitarbeiter, die ...
langfristiges Denken mit schnellem und effizientem Handeln in einem dynamischen Umfeld kombinieren
Teil eines engagierten Teams sein wollen
Erfolgssucher statt Misserfolgsvermeider sind
lösungsorientiert vorgehen, statt sich an Problemen festzuhalten
eine "Ready, Fire, Aim" – Mentalität an den Tag legen
exzellente Kommunikations- sowie Präsentationsfertigkeiten besitzen
verhandlungssicher deutsch und englisch sprechen
Erste Erfahrungen in der Luftfracht sind wünschenswert aber kein Muss.
Was wir ihnen bieten:
Basis unserer Leistung bei Mainfreight ist eine unterstützende Arbeitsatmosphäre, die mutiges und eigenverantwortliches Handeln fördert. Dazu gehört auch ein positiver Umgang mit Fehlern. Denn nur wem es erlaubt ist Fehler zu machen und aus ihnen zu lernen, kann mutige Entscheidungen treffen, proaktiv handeln und dabei Verantwortung übernehmen. Belohnt wird ihre Leistung bei Mainfreight mit attraktiven Karrierechancen, denn hier gilt das Credo "Promote from Within". Hand in Hand mit der Entwicklung ihrer Karriere soll auch ihre persönliche Entwicklung gehen. Diese wird bei Mainfreight durch umfangreiche Schulungen und Trainings unterstützt. Dem zugrunde liegt unsere mit Stolz gelebte Unternehmenskultur, die sich aus den drei Säulen "Kultur, Familie und Philosophie" zusammensetzt (siehe "Three Pillars of Mainfreight").
Teilen sie unsere Werte und sind gewillt ihre Karriere in einem globalen Unternehmen und doch familiären Team auf die nächste Stufe zu heben?
Dann senden sie ihre Bewerbungsunterlagen (Motivationsschreiben und Lebenslauf) an die nachstehende E-Mail-Adresse
daniel.kirsch@de.mainfreight.com (Leiter Air & Ocean Frankfurt am Main)
Frequently Asked Questions
What we do?
As a part of Mainfreight, you can expect to be helping some of the world's largest brands become more competitive and efficient. Being a strategic supply chain partner means Mainfreight helps customers get their products from the manufacturer to the end-user in the smartest, most cost-effective way.

Our business can be broken down into three core areas:
Who we are?
It all started in 1978 with a couple of free-thinking entrepreneurs who didn't care much for rules. As a start-up they challenged the establishment and always took care of their own. Years later, that rebellion and people-first philosophy is still deeply ingrained in our DNA. In 2011 Mainfreight acquired the business of Wim Bosman Group providing further opportunities to expand Mainfreight's international global network with branches throughout Europe.

We have a 100-year vision, that means every person and every decision we make today will leave an imprint on this company now and for 100 years to come. This long-term vision guides us as a business and determines both our decisions and actions every day.

As we extend our operations across the major trading nations of the world, we continue to stand out for the right reasons. It is our uncompromising quality, agility and unique culture which sets us apart.
What is the working culture like?
We are a very flat structured organisation. We have open plan offices and management sit in amongst the team. We do not use the "s" word (staff) and refer to everyone as Team – everyone has a part to play in moving Mainfreight forward and meeting our targets and goals.

We believe in working hard but we also have fun and a laugh while we do it. Our team is empowered to make decisions and have a say in how we do things.
How will my career progress?
Our philosophy is to recruit and 'grow' our own people, rather than hire people from other businesses. That is why we invest in and manage the long-term growth and development of our people, right from the start.

Once you have learnt the fundamentals of Mainfreight on the operations floor, you will move into other areas of the business where you will get the right mix of autonomy and support. We believe that smart people can learn the specifics of any role so our focus is on helping you develop personal and professional skills that will allow you take on any role in the business.

We are an ever-changing business and we are constantly reviewing new ways to help our team develop the world-class skills that will lead our business into the future.
What Training and Development do you offer?
We understand that our biggest asset is our people and that our growth as a business is only limited by our ability to grow our own people. Our training and development strategy reflects this with structured induction, training and development. The Mainfreight difference is that we focus on helping you develop the professional and personal strategies, tools and life skills to step into any role in the business, anywhere in the world.
Our ongoing team development programs around the world currently includes:
A full induction program
Learning the business from the operations floor-up
Structured leadership programmes
Personal development courses