Mainchain
Mainchain is onze wereldwijde supply chain - portaal bestemd voor de klanten van Mainfreight wereldwijd.
Online klant portaal – Mainchain
Mainchain is onze wereldwijde supply chain - portaal bestemd voor de klanten van Mainfreight wereldwijd.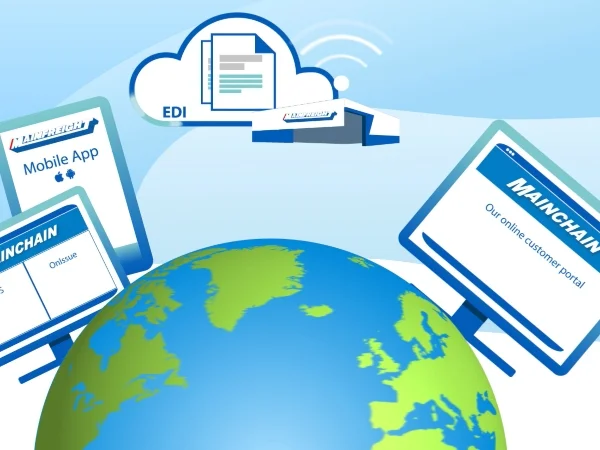 Zichtbaarheid in uw supply chain
Met ons wereldwijde online klantenportaal "Mainchain" heeft u te allen tijde toegang to uw supply chain.
Waarom heeft u Mainchain nodig?
Het is uw one-stop-shop voor vracht management en bevat alle informatie over uw wegtransportzendingen, logistieke orders en zee-en luchtvrachtzendingen. Met Mainchain heeft u te allen tijde toegang tot uw supply chain, is kosteloos en behoeft geen software installatie.
Zichtbaarheid in uw supply chain van het begin tot het eind
Rechtstreeks geïntegreerd met alle systemen in ons wereldwijde netwerk. Voorzien van actuele wereldwijde track & trace status
Veel gebruikte informatie met betrekking tot: verladers, geadresseerden, producten, zoekopdrachten en rapporten, opgeslagen en leesbaar beschikbaar
Wat is voor u belangrijk?
Uw vrachtinformatie binnen handbereik:
Personaliseer uw dashboard, met de details naar uw behoefte
Pas rapporten aan in uw behoefte door het gebruik maken van filters
Sla acties op in uw favorieten voor snelle toegang
Online uw prijs berekenen en zendingen boeken
Snel en eenvoudig een schatting van de kosten alvorens u uw zending boekt
Geen communicatie als telefoon, e-mails of faxen vereist. Voer eenvoudig uw verzendgegevens in, deze gegevens worden vervolgens doorgestuurd naar onze systemen in de hele supply chain: (binnenlandse) afhalingen en leveringen, internationale zendingen, logistieke orders en meer
Pint alle essentiële documenten en etiketten die u nodig heeft
Vrachtmanagement
Op aanvraag of gepland toegang tot belangrijke rapporten, trends en analyses
Real-time zichtbaarheid van uw internationale en binnenlandse zendingen
Volg uw voorraad in onze magazijnen wereldwijd
Notificaties / meldingen van uw zending vanaf dat de zending gecreëerd is tot aan levering
Snel en eenvoudig toegang tot afleverbewijzen (POD)
Bekijk uw maandelijkse vrachtkosten middels online toegang tot facturen en overzichten
Handleiding
Download hier de handleiding van Mainchain
Bereken uw transportprijs en boek uw zending online
Middels onze Mainfreight bookingtool kunt u snel en eenvoudig uw transportkosten berekenen en direct boeken. Kies de service die het beste bij u past!
Bereken nu
Informatie aanvraag
Heeft u een vraag over onze diensten, neem gerust contact met ons op.
Informatie aanvraag