21 December 2017
Making dreams come true
Special People, Special Company
Our Mainfreight motto rang true when Owner Driver Egon Chiemel made Woodend resident Liam Ryan's day, when he took him and his respite carer Kathryn Gibson out on his truck for the day.
The outing was arranged by Maddie from Mainfreight Christchurch, who went beyond call of duty to give a nearly 17 year old autistic boy a wonderful first time experience.
Liam knew that he was going to get a surprise but had no more details until Kathryn told him to go out and wait at the gate. A Mainfreight truck pulled up and Liam's excitement grew.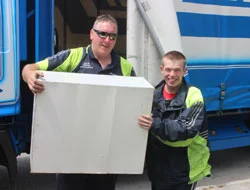 They drove around the empty streets of the red zone of Kaiapoi, then had a pick up at the Kaiapoi Salvation Army shop. Liam donned a Mainfreight jacket and he set off with Egon to uplift the freight. On returning to the truck Egon showed him how to open the truck curtains and load the freight on board. It was great for Liam to be able to participate, posing as the Mainfreight driver and he enjoyed every moment.
The team headed back to Kaiapoi, down the motorway and over the Waimakariri Bridge. Egon told them about his job, and his truck, his family, a little about the Mainfreight philosophy, and also that insurance premiums had tripled since the earthquakes. Kathryn said "amongst other things, Liam remembered the bit about the lady who worked at night driving the forklift!"
Liam was delighted when Egon gave him an early Christmas present from Maddie and the team – a Mainfreight beanie, cap, bum bag, calendar and our latest magazine and annual report.
Thanks Maddie and Egon for being the special people in a special company and for making Liam's day.