Mainfreight Development Programme
Want to send your application? Great! Start your journey here.
About the Mainfreight Development Programme
If you want to dive into the dynamic, fast paced world of supply chain and you're not afraid to step outside your comfort zone, you've come to the right place. We believe in developing our team members of the future today, because we know that they will be driving our business tomorrow and for the next 100 years. We look for people that see the long term impact they will have on our business.
If you're ready for the challenge of a lifetime, read on!
On the job learning
By joining our three-year Mainfreight Development Programme, you will receive the ideal combination of 'doing' and 'learning'. Right from the start, you will get to work in an operational role whilst benefitting from a clearly defined structure of training and coaching. You will have the opportunity to work in different roles within our business units, Air & Ocean, Warehousing and Transport. As we are a global business, we offer you the opportunity to fill roles in our branches across Europe.
A taste of the programme
from the horse's mouth...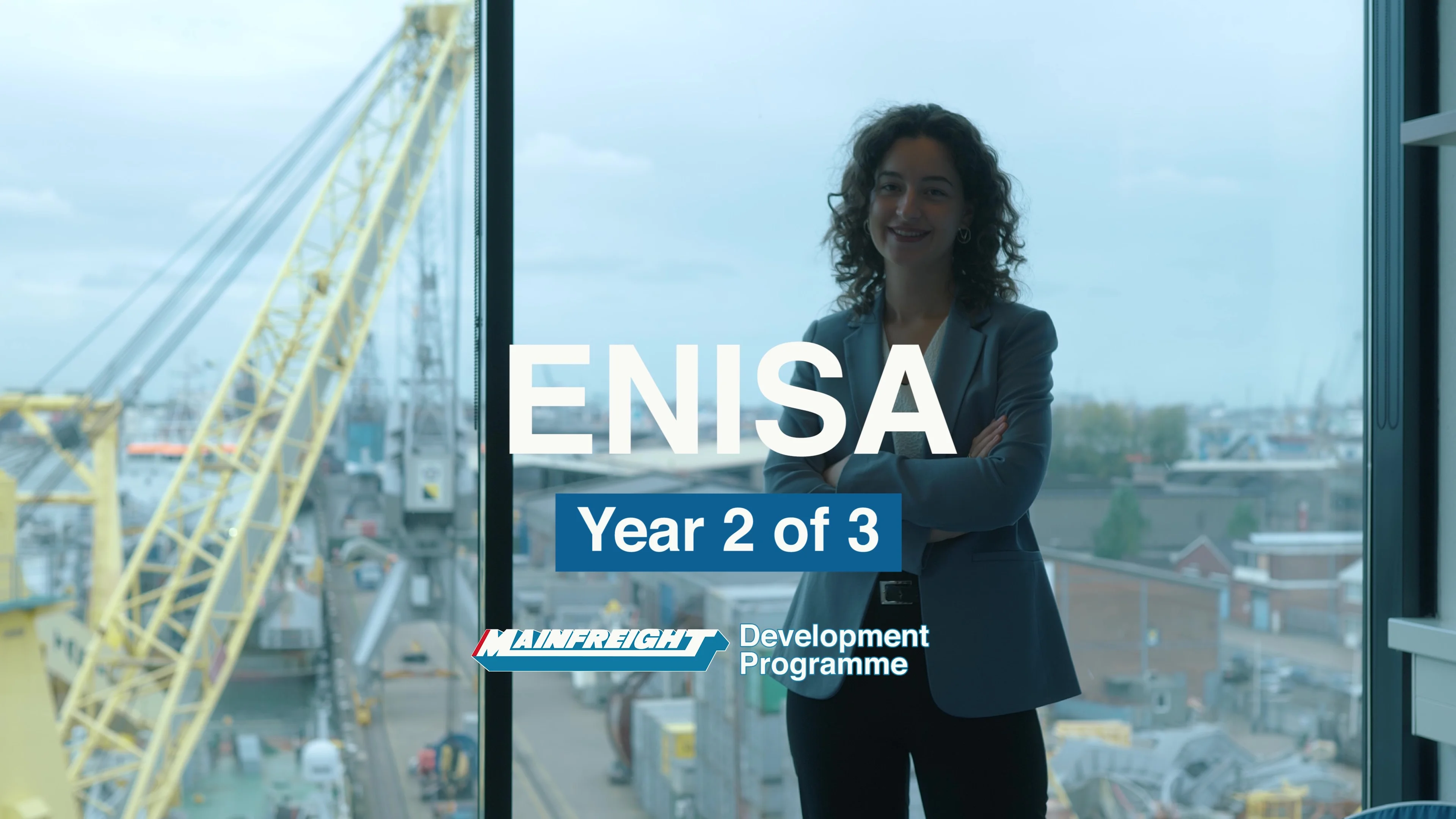 Working at Mainfreight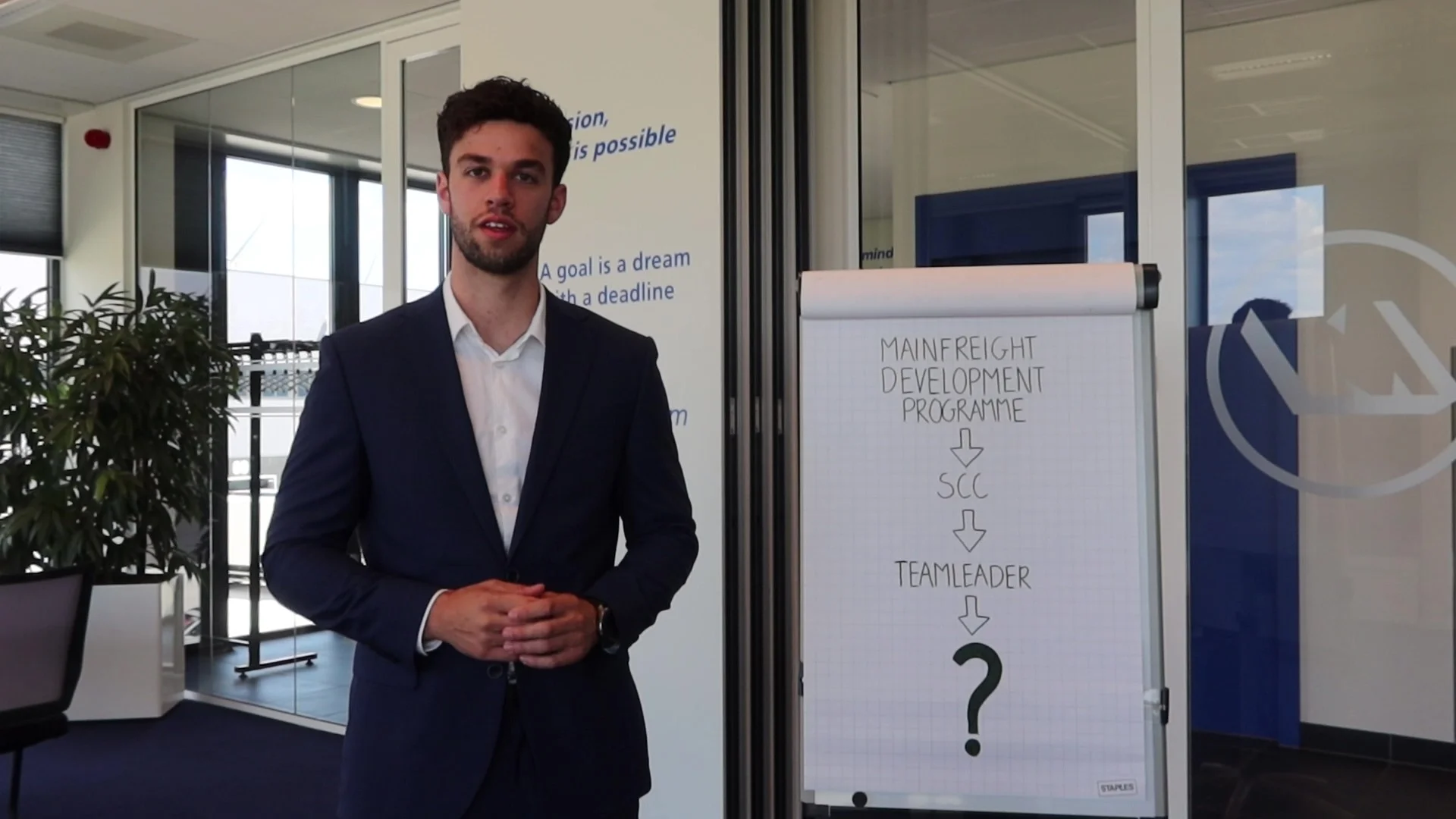 Julian's career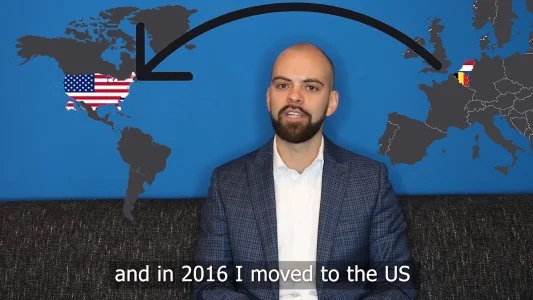 From Belgium to the USA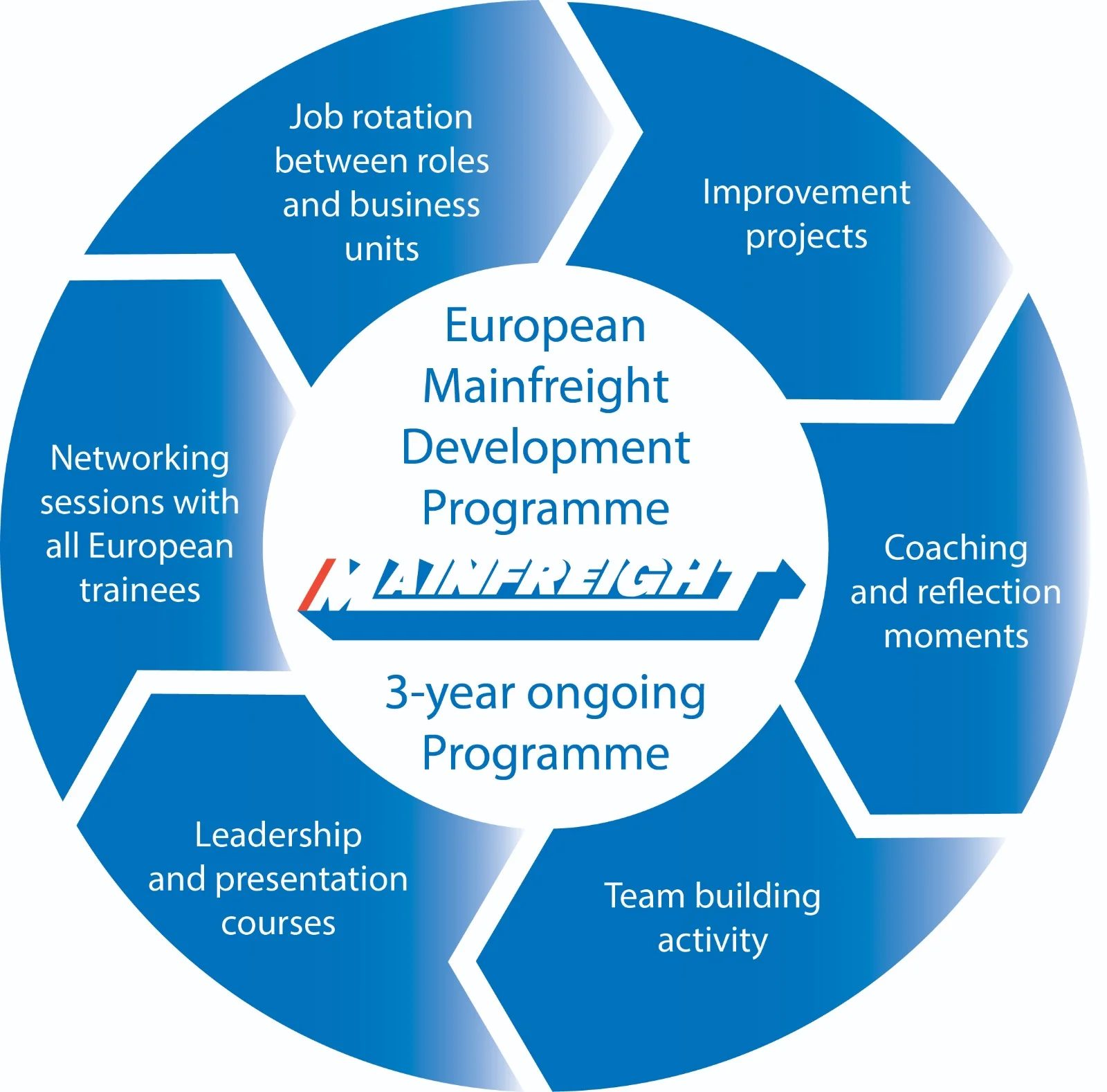 Our programme
Our Mainfreight Development Programme focuses on your individual development and career path. It is a three year programme where you will learn more about your strengths and your interests within Mainfreight; whether that's in a leadership role, sales, operations, business development, IT, or finance, it's up to you! To further your development you will participate in multiple personal leadership courses, presenting courses and networking sessions with the our European trainees. You can put training into practice by taking on improvement projects within your role. This is a great way to see just how big your impact on our business can be!

Looking after our people is a key part of our culture at Mainfreight and you will receive coaching from your manager or team leader. We also plan coaching sessions for you and the programme coordinator to reflect on your development, where you want your career to go, and how we can help get you there.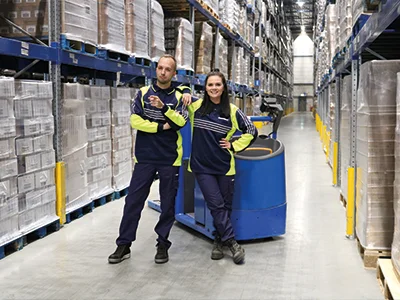 What we look for
Every decision we make at Mainfreight today, we do so while looking at the next 100 years. We look for people who understand the long term benefits of learning from the ground up and gaining a broad base of experience. We also look for people who:
Recently graduated with a bachelor or masters degree

Hold a European passport

Are passionate about starting a career in the supply chain industry

Speak proficient English and have a high command of either Dutch, French, German, Romanian, Polish, Italian, or Spanish
Do you think you have what it takes to become a Mainfreight legend? Then we want to hear from you! Get in touch with us, or hit apply now!
Foire aux questions sur notre programme
Quand puis-je postuler ?
Nous faisons les choses différemment. Chez nous, il n'y a pas de quotas fixes ; nous recrutons de nouveaux talents en fonction de nos besoins. À nos yeux, trouver les bons candidats est plus important que gonfler nos rangs à tout prix. Nous recrutons autant de profils prometteurs que nécessaire tout au long de l'année !
Quels sont les postes disponibles ?
Partout en Europe, nos pôles accueillent des diplômés. Votre lieu d'affectation dépendra des postes disponibles au moment de votre candidature. Dans un premier temps, vous serez probablement affecté dans votre pays d'origine. Votre carrière chez Mainfreight vous amènera à travailler ailleurs en Europe, alors préparez votre passeport !

Si vous avez un lieu précis en tête, nous ferons de notre mieux pour vous y trouver un poste, à votre arrivée ou dès qu'une occasion se présentera.
Puis-je prétendre à un parcours international ?
Oui ! Nous aidons nos leaders de demain à développer leur carrière en Europe s'ils le souhaitent. Nous préférons simplement que vous commenciez dans le pays de votre langue maternelle. L'étape suivante dépend de vous et des postes disponibles. Vous n'avez qu'à exprimer votre souhait !
Vais-je occuper un poste dans chaque pôle ?
Il n'y a pas de rotations ni de parcours standards pour nos stagiaires. Votre itinéraire professionnel ne dépend que de vous et des disponibilités. Cliquez
ICI
pour en savoir plus sur le parcours de carrière de certains de nos leaders de demain.
Elif Bilici | Recruiter Mainfreight Development Programme
T: +31 314 672 777
E: careers.eu@mainfreight.com