Ready to start your Mainfreight adventure?

23 April 2021
Spedytor Morski FCL, LCL
Profil kandydata:

minimum dwuletnie doświadczenie w transporcie morskim i intermodalnym

otwartość oraz chęć do nauki nowych rozwiązań, także podczas wewnętrznych szkoleń w firmie

dobra znajomość jez. angielskiego (minimum poziom B2), która jest wykorzystywana w kontakcie z zagranicznymi partnerami

m​ile widziane umiejętność pracy przy obsłudze frachtów kolejowych
Obowiązki:

organizowanie i realizowanie międzynarodowych transportów morskich (eksport-import)

przygotowywanie ofert oraz negocjowanie warunków współpracy

budowanie długofalowej relacji z klientami i przewoźnikami

prowadzenie dokumentacji transportowej

dbanie o najwyższą jakość świadczonych usług
Oferujemy:

stabilne zatrudnienie w ramach umowy o pracę z zawsze terminowym wynagrodzeniem
samodzielne stanowisko pracy w międzynarodowym środowisku
szeroki zakres benefitów (opieka medyczna i ubezpieczenia) także dla Rodziny na bardzo preferencyjnych warunkach
szereg szkoleń poszerzających wiedzę logistyczną i wspierających rozwój
ciekawą integrację z zespołami w kraju i zagranicą
dobrą atmosferę pracy w międzynarodowym zespole
wsparcie doświadczonych specjalistów z całego świata
Benefity:

prywatna opieka medyczna
ubezpieczenie na życie
służbowy telefon do użytku prywatnego
dofinansowanie nauki języków
dofinansowanie szkoleń i kursów

Zainteresowane osoby prosimy o przesłanie CV na adres: careers@pl.mainfreight.com

wraz z klauzulą
"Wyrażam zgodę na przetwarzanie przez Mainfreight Sp. z o.o. ul., Al. Krakowska 106 lok. 130, 02-256 Warszawa moich danych osobowych dla potrzeb niezbędnych do realizacji procesu rekrutacji (zgodnie z ustawą z dnia 10 maja 2018 roku o ochronie danych osobowych (Dz. Ustaw z 2018, poz. 1000) oraz zgodnie z Rozporządzeniem Parlamentu Europejskiego i Rady (UE) 2016/679 z dnia 27 kwietnia 2016 r. w sprawie ochrony osób fizycznych w związku z przetwarzaniem danych osobowych i w sprawie swobodnego przepływu takich danych oraz uchylenia dyrektywy 95/46/WE (RODO))." Niniejszym przyjmuję do wiadomości iż: Administratorem moich danych osobowych jest Mainfreight Sp. z o.o. ul. Al. Krakowska 106 lok. 130, 02-256 Warszawa, a Branch Manager Inspektorem Ochrony Danych.
Frequently Asked Questions
What we do?
As a part of Mainfreight, you can expect to be helping some of the world's largest brands become more competitive and efficient. Being a strategic supply chain partner means Mainfreight helps customers get their products from the manufacturer to the end-user in the smartest, most cost-effective way.

Our business can be broken down into three core areas:
Who we are?
It all started in 1978 with a couple of free-thinking entrepreneurs who didn't care much for rules. As a start-up they challenged the establishment and always took care of their own. Years later, that rebellion and people-first philosophy is still deeply ingrained in our DNA. In 2011 Mainfreight acquired the business of Wim Bosman Group providing further opportunities to expand Mainfreight's international global network with branches throughout Europe.

We have a 100-year vision, that means every person and every decision we make today will leave an imprint on this company now and for 100 years to come. This long-term vision guides us as a business and determines both our decisions and actions every day.

As we extend our operations across the major trading nations of the world, we continue to stand out for the right reasons. It is our uncompromising quality, agility and unique culture which sets us apart.
What is the working culture like?
We are a very flat structured organisation. We have open plan offices and management sit in amongst the team. We do not use the "s" word (staff) and refer to everyone as Team – everyone has a part to play in moving Mainfreight forward and meeting our targets and goals.

We believe in working hard but we also have fun and a laugh while we do it. Our team is empowered to make decisions and have a say in how we do things.
How will my career progress?
Our philosophy is to recruit and 'grow' our own people, rather than hire people from other businesses. That is why we invest in and manage the long-term growth and development of our people, right from the start.

Once you have learnt the fundamentals of Mainfreight on the operations floor, you will move into other areas of the business where you will get the right mix of autonomy and support. We believe that smart people can learn the specifics of any role so our focus is on helping you develop personal and professional skills that will allow you take on any role in the business.

We are an ever-changing business and we are constantly reviewing new ways to help our team develop the world-class skills that will lead our business into the future.
What Training and Development do you offer?
We understand that our biggest asset is our people and that our growth as a business is only limited by our ability to grow our own people. Our training and development strategy reflects this with structured induction, training and development. The Mainfreight difference is that we focus on helping you develop the professional and personal strategies, tools and life skills to step into any role in the business, anywhere in the world.
Our ongoing team development programs around the world currently includes:
A full induction program
Learning the business from the operations floor-up
Structured leadership programmes
Personal development courses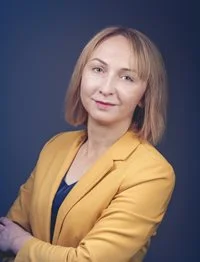 Agnieszka Brymerska | Training & Recruitment officer
T: +48 882 130 678
E: agnieszka.brymerska@pl.mainfreight.com