29 April 2021
The way of the future – Electric Trucks | March 2020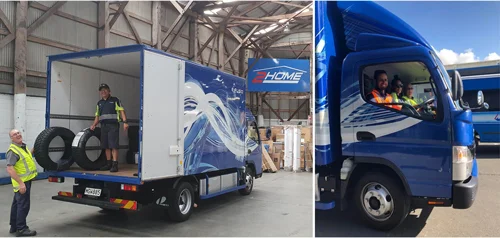 Our commitment to sustainability and the environment continues to be a fundamental element of our operating practices. We are always looking at new initiatives that will help us achieve the greatest impact.
Electric vehicles are the way of the future and three of our New Zealand branches we were lucky enough to spend a day trialing the latest FUSO eCanter in February. The eCanter is the first all-electric vehicle under the E-FUSO brand, launched by the Mitsubishi Fuso Truck and Bus Corporation of Japan.
Taking it for a test drive
Covering up to 150km on a single charge and with a payload capacity of up to 4 tonne, the eCanter fits perfectly into our around town pick-up and delivery service. As a zero-emissions vehicle, the engine and noise pollution is almost at nil, and its advanced safety features provide added protection for our drivers.
We were impressed
Our drivers and our customers in New Zealand were impressed with the truck overall. Considering it is an electric vehicle, they were surprised at how powerful it was and the distance it was able to travel in a single charge. This will be an important part of our future, so watch this space.