Ready to start your Mainfreight adventure?

04 December 2020
Support Commercial
Air & Oceran | Lyon, France
La vente est le moteur de notre activité chez Mainfreight et nous recherchons un membre énergique pour rejoindre notre équipe de vente à Lyon. Notre équipe Air & Océan, située à l'aéroport de Lyon, recherche un membre enthousiaste et avide de ventes pour rejoindre notre équipe en pleine expansion avec l'ambition de devenir un responsable du développement commercial dans le futur.
Notre stratégie est simple, nous voulons être le meilleur fournisseur de la chaîne d'approvisionnement mondiale et nous voulons que la bonne personne rejoigne notre parcours et contribue à notre histoire. Vous aurez la liberté et l'encouragement nécessaires pour rechercher et développer de manière proactive de futures initiatives tout en développant votre carrière dans une entreprise mondiale. Tout cela se fait au sein d'un environnement d'équipe autonome, proche, solidaire, ambitieux et amusant !
Vos missions principales sont :
Être un membre clé de la filiale, se concentrer sur le soutien de nos activités de vente et amener de nouveaux clients à notre entreprise, sans jamais accepter la médiocrité.
Apprendre et vendre des solutions d'amélioration continue et devenir un conseiller de confiance pour nos clients.
Établir des relations entre nos principaux partenaires, fournisseurs et équipes dans le monde entier pour favoriser le succès des ventes et développer notre activité à Lyon
Se concentrer sur les clients clés du marché qui nous apporteront des partenariats à long terme, et non des gains à court terme.
Soutenir vos clients au fur et à mesure que leur entreprise grandit avec la nôtre.
En plus de ce qui précède, ce rôle a la liberté et l'encouragement de rechercher et de développer de manière proactive des initiatives futures.
Pour ce poste, nous recherchons:
Un membre de l'équipe passionné et énergique avec une forte concentration sur les ventes et qui veut que notre équipe réussisse.
Une personne soucieuse de trouver des solutions qui considère les ventes comme l'élément vital de notre entreprise.
Un vrai « Mainfreighter » qui cherche non seulement à maintenir les normes, mais aussi à les battre et à redéfinir constamment notre niveau de performance.
Sans accepter le statu quo, vous apporterez une approche énergique au développement de notre entreprise.
Vous devez avoir une vision d'ensemble et une vision à long terme, et évoluer au rythme et parfois avec impatience.
Excellentes aptitudes à la communication ; avec votre équipe, le client et le groupe - c'est primordial dans toutes les cultures.
La maîtrise du français et de l'anglais est une nécessité
Une personne passionnée qui veut faire carrière dans une entreprise internationale
Une connaissance préalable du transport Aérien & Maritime est un avantage, mais pas une nécessité.
Ce que vous pouvez attendre de nous:
Accès à une entreprise mondiale qui veut que vous ayez une carrière amusante et passionnante
Accès à la gestion clé pour le tutorat et les conseils en cas de besoin
Une véritable chance de faire évoluer votre carrière vers ce que vous souhaitez au sein de notre entreprise
Possibilités de voyage à l'échelle mondiale
Mainfreight est un fournisseur mondial de services de chaîne d'approvisionnement. Depuis ses humbles débuts en Nouvelle-Zélande, Mainfreight a étendu son empreinte mondiale jusqu'à ce qu'elle est aujourd'hui. Avec plus de 280 succursales et 8 500 membres d'équipe en Europe, aux États-Unis, en Asie, en Nouvelle-Zélande et en Australie, Mainfreight est fière d'offrir le meilleur service possible à ses clients et d'être une entreprise qui offre des carrières passionnantes aux membres de son équipe.
La culture, la famille et la philosophie sont les fondements de nos trois piliers de Mainfreight. Nous sommes une entreprise qui croit au travail d'équipe pour faire de Mainfreight la meilleure entreprise de logistique au monde. Nous croyons en la promotion interne et nous ne voulons que les meilleurs qui veulent rejoindre notre histoire et avoir une carrière à vie avec nous. Notre lieu de travail est un environnement stimulant, mais passionnant, en constante évolution et offrant de nouvelles opportunités dans le monde entier.
Vous partagez la même passion et le même esprit d'équipe ?
Envoyez votre CV à Marine DENIAU (Responsable des Ressources Humaines) : careers@fr.mainfreight.com
Frequently Asked Questions
What we do?
As a part of Mainfreight, you can expect to be helping some of the world's largest brands become more competitive and efficient. Being a strategic supply chain partner means Mainfreight helps customers get their products from the manufacturer to the end-user in the smartest, most cost-effective way.

Our business can be broken down into three core areas:
Who we are?
It all started in 1978 with a couple of free-thinking entrepreneurs who didn't care much for rules. As a start-up they challenged the establishment and always took care of their own. Years later, that rebellion and people-first philosophy is still deeply ingrained in our DNA. In 2011 Mainfreight acquired the business of Wim Bosman Group providing further opportunities to expand Mainfreight's international global network with branches throughout Europe.

We have a 100-year vision, that means every person and every decision we make today will leave an imprint on this company now and for 100 years to come. This long-term vision guides us as a business and determines both our decisions and actions every day.

As we extend our operations across the major trading nations of the world, we continue to stand out for the right reasons. It is our uncompromising quality, agility and unique culture which sets us apart.
What is the working culture like?
We are a very flat structured organisation. We have open plan offices and management sit in amongst the team. We do not use the "s" word (staff) and refer to everyone as Team – everyone has a part to play in moving Mainfreight forward and meeting our targets and goals.

We believe in working hard but we also have fun and a laugh while we do it. Our team is empowered to make decisions and have a say in how we do things.
How will my career progress?
Our philosophy is to recruit and 'grow' our own people, rather than hire people from other businesses. That is why we invest in and manage the long-term growth and development of our people, right from the start.

Once you have learnt the fundamentals of Mainfreight on the operations floor, you will move into other areas of the business where you will get the right mix of autonomy and support. We believe that smart people can learn the specifics of any role so our focus is on helping you develop personal and professional skills that will allow you take on any role in the business.

We are an ever-changing business and we are constantly reviewing new ways to help our team develop the world-class skills that will lead our business into the future.
What Training and Development do you offer?
We understand that our biggest asset is our people and that our growth as a business is only limited by our ability to grow our own people. Our training and development strategy reflects this with structured induction, training and development. The Mainfreight difference is that we focus on helping you develop the professional and personal strategies, tools and life skills to step into any role in the business, anywhere in the world.
Our ongoing team development programs around the world currently includes:
A full induction program
Learning the business from the operations floor-up
Structured leadership programmes
Personal development courses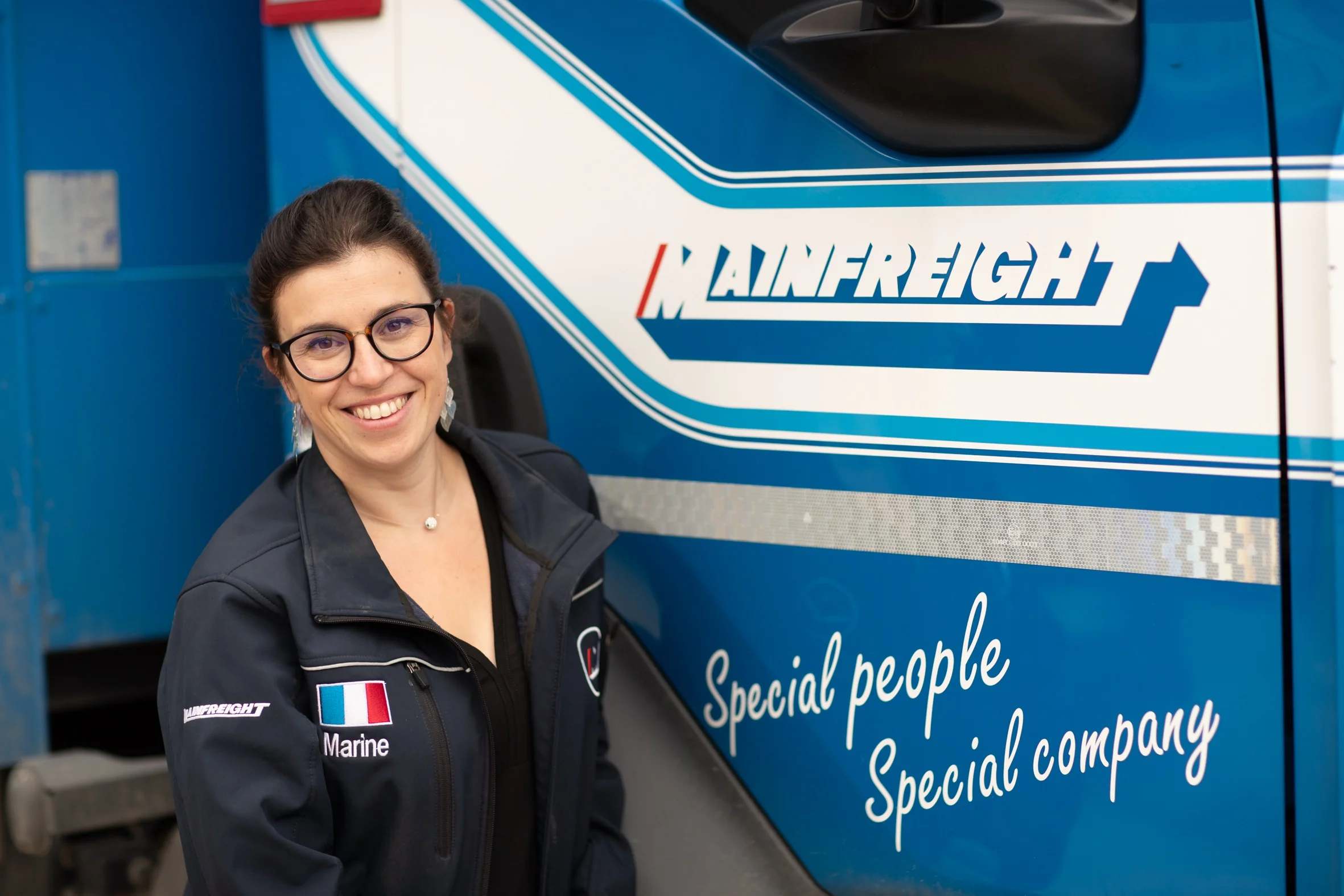 Marine Deniau | HR Manager
T: +33 160 217 409
E: careers@fr.mainfreight.com