16 May 2022
New Blue Blood | Mainfreight Shanghai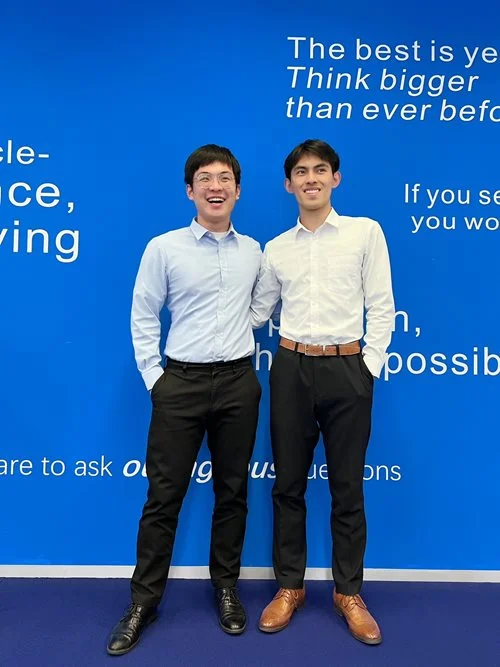 We have some amazing new blue blood!!
Mickey and Chris joined Mainfreight late 2020 through the Mainfreight Development Program. Here they have shared their experience working in Mainfreight and they've learnt, We look forward to seeing how far, how soon and where, Mickey and Chris go on their journey at Mainfreight.

Meet our trainees
Mickey Qian:
"From my first day in Mainfreight, l was impressed by the surroundings of this company. The quotes about the company culture is everywhere on the wall. I think is a very important factor for a global company to display its brand strongly. After one-year of training, I not only learnt how to be a professional Salesperson but also a better person."
Mickey's background, he is a graduate majoring in logistics management and quickly adapted to this job. Since he joined Mainfreight in 2020, he has showed his passion and ability in many aspects. He has built a good relationship with everyone he worked with. As a Shanghai Sales Representative, we would like to wish him a successful journey ahead.
Chris Den:
"Despite the tough period we are in experienced this year, it has been a great pleasure to work together with our teams and to finish our journey as a MDPer. (Mainfreight Development Program)
This one year experience was the key to opening a brand new chapter in sales. My Mainfreight brothers, sisters and I's 'Ready, Fire, Aim' attitude along with our passion will continue to make our family stronger and stronger.
Whether you're about to start your career or you're looking for a whole new challenge, if you have what it takes and are up for an adventure, we'd love to hear from you.
Join us:
https://www.mainfreight.com/asia/en-nz/careers
Thinking a career at Mainfreight could be your next step?
Click the link below to find out what it's like to work alongside the best people, make real-life decisions and be part of an ever growing global family.
Ask a question
Do you have a question about our services, please feel free to get in touch with us
Enquiry
Get in touch with us
Talk to one of our branches to get more information about our services
Contact us