03 May 2022
Michelle Yip appointed as General Manager for our Asian warehousing business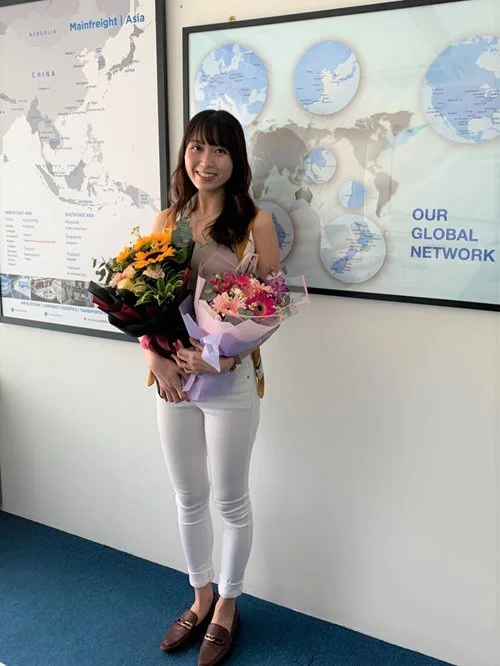 We are pleased to announce the appointment of Michelle as General Manager for our Asia warehousing business.
Michelle started her journey with Mainfreight in 2016 as Hong Kong Logistics Solution Manager to develop Hong Kong warehousing business. In the following years, she was involved with our warehousing operations in Shanghai, Qingdao, Shenzhen and Ningbo as Asia Supply Chain Manager. In 2018, she also took up the development of our Asia Business Solutions team where we connect Air &Ocean customers who have additional supply chain requirements for a value-added service. In 2020, Michelle took on an opportunity to move to Singapore to support our development in Southeast Asia with Mainfreight. This also gave her a chance to learn and experience different parts of our business in Asia. These 7 years provided Michelle with a solid understanding across our Air & Ocean business and Warehousing standards. We look forward in Asia to continue intensifying our network through growing our Warehousing footprint across the 10 countries we are in with Stand-alone Warehousing capabilities.
This appointment is a great example of Mainfreight's culture of promoting from within and highlights our focus on developing the right people and providing long-term careers to our team.
We are confident that the Mainfreight Asia Warehousing will see continuous growth with Michelle's leadership. Congratulations Michelle.
Please join us in congratulating Michelle in her new role!
Thinking a career at Mainfreight could be your next step?
Click the link below to find out what it's like to work alongside the best people, make real-life decisions and be part of an ever growing global family.
Ask a question
Do you have a question about our services, please feel free to get in touch with us
Enquiry
Get in touch with us
Talk to one of our branches to get more information about our services
Contact us