25 May 2021
Mainline Singapore | Branch profile and development in Singapore

Our Singapore office just celebrated their 10th year anniversary and we wanted to take this opportunity to update our team members on all the exciting and wonderful changes we have made.

Our new branch manager, Doreen Ng, came on board in mid-2019. We have since grown our Singapore Branch into a family of motivated, driven team members who are committed to our customers supply chain and logistics needs and eager to expand their reach to new businesses and markets.
Our Singapore branch is working closely with our New Zealand & Australia offices to handle their weekly inbound consolidations. To learn more about our weekly consolidations, go to sailing-schedules or contact local team.

Our Services

Air Freight - Handles all types of cargo; general, dangerous, to perishables. Loose / consolidation / chartering
Sea freight - Handles all types of cargo general, dangerous, to perishables. FCL / LCL / OOG / RORO. Weekly FAK from New Zealand and Australia
Customs Brokerage (In-House) - Customs formalities, Certificate of Origin, Certificate of Non-Manipulation
Domestic Transport & Warehousing Services

About Singapore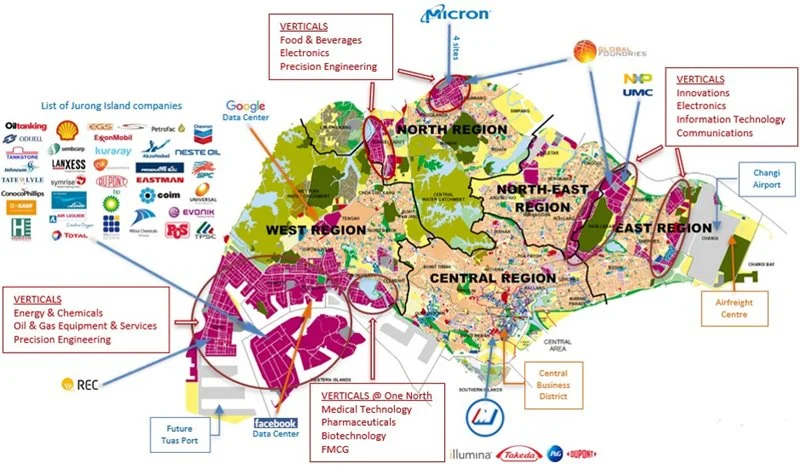 Located at the cross-roads of East-West trade to the emerging Asian market, Singapore's strategic location in the heart of Asia enables businesses to access the region's rapidly expanding mar¬kets.
Singapore is one of the world's top transportation hubs for sea/ocean freight and air freight. Singapore's container ports are one of the busiest in the world and Changi International Airport is linked to 300 cities in 70 countries, with more than 6,500 weekly flights (stats referenced from before Covid19).
Various economic activities are organized into designated industrial parks and economic zones. Important industries to mention are:
Electronics
Energy & Chemicals Biotechnology
Oil & Gas
Food & Beverages
IT Development & Communications

Why Singapore
Singapore from a small fishing village to a world class container port, today, the small city-state is home to the world's largest transhipment container port, linked to over 600 ports worldwide. Singapore Changi airport is voted the best internationally and is served by about 6,800 weekly flights to 330 cities. With a whopping nation's trade value amounts to 3.5 times its GDP.

Sea Transport
Singapore's maritime industry comprises 5,000 companies and employs more than 170,000 people. The Sea Transport Industry Transformation Map (ITM) aims to grow the industry by S$4.5 billion and create more than 5,000 jobs by 2025.
Connected to more than 600 ports in over 120 countries, Singapore's global network allows goods to be transported efficiently to anywhere in the world. Emerging technologies are transforming the nature of our shipping industry with automation, digitalisation and real-time data sharing improving the efficiency of sea transport industries globally.

Air Transport
The Air Transport Industry Transformation Map (ITM), a national blueprint to upgrade the capabilities of aviation companies, aims to increase the sector's productivity by 40%, and to redesign or create more than 8,000 jobs by 2025.
Singapore has been upgrading and expanding our airport and air navigation services infrastructure to ensure sufficient capacity ahead of demand. When in operation, Changi Airport's third runway and the mega Terminal 5 will increase our passenger capacity by another 50 million.
As a Singapore company in the air transport industry, we can develop and offer innovative solutions across the value chain, from cargo handling to chartering functions and other special cargo operations. There is ample local and regional demand for our business to fly high.

Logistics – Do you mean Warehousing or Transport & Warehousing?
Singapore is a major warehousing hub ranked first in Asia by the World Bank1. The warehousing industry is an important contributor as well as connector of our economy. It links up the supply chain domestically and internationally, and in the process provides employment to more than 230,000 Singapore workers in 2015.
The national strategy for the industry is laid out in the Logistics Industry Transformation Map. The plan is to achieve a value-add of S$8.3 billion to the industry and to add 2,000 professional logistics jobs by 2020.
Reach out our Singapore team:
https://www.mainfreight.com/en-nz/singapore-mainline-air-ocean​
Part of sources by Enterprise Singapore
https://www.enterprisesg.gov.sg/industries/type/sea-transport/industry-profile