04 August 2022
Joan Ji, 20 year Mainfreight Journey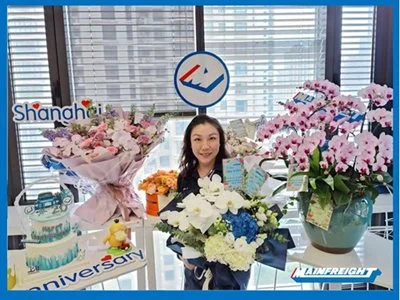 Joan took her first step into the Mainfreight Shanghai Branch in 2002 as a Customer Service Representative. At the time, we only had a few team members for all China, now we have over 100 in Shanghai alone. In small branches, opportunities blink like stars, where everyone pitched in through their efforts, "an enduring company is built by many good people not a few". In Mainfreight's, "No job descriptions" culture, Joan was involved with Customer Service and part time Sales. This is where Joan was able to cultivate and master her commercial skillset through daily communication with customers and by living and breathing the Mainfreight ethos of "Profit comes from hard work, not talk". After a successful trip to the US with CaroTrans, in 2005, Joan was promoted as Sales Manager for Mainfreight Shanghai, where she was responsible for looking after the business development for Northern China territories.
When the Mainfreight group decided they wanted to setup CaroTrans in Asia, Joan was the first to raise her hand to the challenge and successfully opened CaroTrans Shanghai with her optimistic spirit and passion in Mar 2009. Taking this role enabled Joan to quickly learn all facets of the branch from setup to the weekly financials, not just operations. After a few years working in wholesale world, Joan moved back to Mainfreight to take on the role as the Regional Product Manager Regional in the Asia Regional Support Team. As the business grew, so did the opportunities, Joan's next role was the New Zealand and Australia Trade Lane Manager. As the Trade Lane Manger, Joan used her all the knowledge she gained to enhance efficiency and communication channels to help the Asia Region hit a new peak, especially for North Bound business development. This is a prime example of, "Avoid mediocrity, maintain standards and beat them."
After her time in various commercial and management roles, Joan was ready to come back to Mainfreight Shanghai, this time stepping into the Branch Manager position from 2017. Today, Mainfreight Shanghai Ocean is the biggest branch in Asia. Joan is passionate about building up the team sharing the special culture with every individual team members in order to achieve remarkable progress. Her success has been proven time and time again with the Shanghai Branch winning "Branch of year" 4 times, as Joan has been in the role for four and half years. Meanwhile, Joan also pioneered the sales office in Suzhou and Chongqing, increasing Mainfreight's network competitiveness in their local market. Mainfreight's Philosophy is all about, "Train successors, so that we may advance". This special culture of Mainfreight always encouraged Joan to build a solid foundation with a strong focus on the people, quality and culture. Mainfreight Shanghai has been committed to advancing Mainfreight Development Program, to discover new and emerging talent.
We always encourage continual learning at Mainfreight and Joan leads the example in this as she is now assiduously studying her EMBA degree. She is determined to not only learn the latest high level management skills but also to share her knowledge and success with our team members across Asia to train valuable successors. As per Joan, she's always pleased to work with other lovely Blue blooders and see it as an honor to grow with Mainfreight Asia together!
We are so grateful for all Joan's hard work and passion, she has been a crucial part of the Mainfreight family for 20 years. Joan's story is continuing, more to come…
Are you interested in starting your journey with Mainfreight?
Global: https://www.mainfreight.com/global/en-nz/global-careers
Asia: https://www.mainfreight.com/asia/en-nz/careers
Where do you fit in?
Explore your options and learn about the career opportunities at Mainfreight.
Ask a question
Do you have a question about our services, please feel free to get in touch with us
Enquiry
Get in touch with us
Talk to one of our branches to get more information about our services
Contact us