14 September 2021
Sales Representative
AIR FREIGHT | BRUSSELS, BELGIUM
(De Nederlandse versie vind je onderaan.)

Our strategy is simple! We want to be the best global supply chain provider and we want the right person to join our journey and contribute to our story. Since its beginnings in 2011, Mainfreight Brussels has grown into a strong branch which is at the epicenter of air freight opportunity. We are now at the point where we need to take our branch to the next level. We are therefore looking for an energetic team member with a hunger for sales, the ambition to grow our customer base and bring new partnerships.

This role can be based out of Brussels, Ghent, Antwerp or Genk: the choice is yours! You will have the freedom to proactively seek out and develop future initiatives whilst being part of a strong European sales team.
The role:
You will be a pivotal member of the Branch, focusing on acquiring new business and partners with a high need for air freight in their supply chain

You will be a leader in the business, setting the standard of driving a strong sales culture along with our sales team. You will build relationships with our customers, understanding their supply chain and using our global network, technology and resources to mould a solution that fits their needs

You will have a good understanding of costing a supply chain solution, introducing competitive solutions whilst understanding margin levels

You will have an open mind to learn about Mainfreight, our culture and how we do business

You will help design and drive sales initiatives in the branch in order to grow our market share and name in the Belgian market

You will not just be working behind a computer, we expect you to utilize all of your resources and be out in front of customers building relationships with key stakeholders in their business.
Who are we looking for?
A passionate, energetic team member with a strong sales focus and a want to develop your sales skills in order to build relationships with new customers
A solutions minded person who likes technology, developing new relationships and with a hunger for sales
A person who seeks not just to maintain standards, but beat them and constantly redefine our performance level
Without accepting status quo, you will bring an energetic approach to developing our business further
You must have a big picture and long term focus, move with pace and sometimes impatience
Excellent communication skills; with your team, the customer and the wider Mainfreight group
A passionate person who wants to build a career in a global business
Previous Air & Ocean knowledge is an advantage but not a necessity.
We offer you:
The Mainfreight culture: passion and team work are part of our DNA
Access to a global business that wants you to have a fun and an exciting career
Access to key management for mentoring and advice when needed
A real chance to grow your career in the direction that fits with your interests and values
Future global travel opportunities.
Nederlandse versie
Onze strategie is simpel! We willen wereldwijd de beste supply chain-service aanbieden aan onze klanten. Voor onze reis willen we de juiste team members aan boord halen om mee ons succesverhaal te schrijven. Sinds de start in 2011 is Mainfreight Brussel uitgegroeid tot een sterke vestiging die het epicentrum van luchtvrachtmogelijkheden vormt. We zijn nu op het punt gekomen dat we onze branch naar een hoger niveau willen tillen. We zijn daarom op zoek naar een energiek teamlid met een honger naar sales, de ambitie om ons klantenbestand te laten groeien en nieuwe partnerships aan te gaan.
Deze functie is mogelijk vanuit Brussel, Gent, Antwerpen of Genk: de keuze is aan jou! Je hebt de vrijheid om proactief toekomstige initiatieven te zoeken en te ontwikkelen, terwijl je deel uitmaakt van een sterk Europees verkoopteam dat bestaat uit teams voor lucht-, zee-, warehousing-, wegtransport- en supply chain-oplossingen. Al deze oplossingen worden ondersteund door enkele van de beste supply chain-technologieën die er zijn.
De rol:
Je bent cruciaal voor de branch, gefocust op het binnenhalen van nieuwe business en nieuwe partners met airfreight in hun supply chain
Je bent een leider binnen onze business die de norm stelt voor een sterke sales cultuur, samen met het gehele sales team
Je begrijpt wat de kosten drijven binnen een supply chain, waarbij je competitieve oplossingen aanbiedt terwijl je de marges op peil houdt
Je staat open om meer over Mainfreight te leren, onze cultuur, en hoe we zaken doen
Je helpt met het ontwerpen en sturen van sales initiatieven om ons marktaandeel te verstevigen, en een naam in de Belgische markt op te bouwen
Je werkt niet alleen achter een computer, we verwachten dat je klantbezoeken doet en relaties opbouwt met belangrijke interne en externe stakeholders.
Wie zoeken we:
Een energieke en gepassioneerde team member met een sterke salesfocus en de wil om je salesvaardigheden te ontwikkelen. Verder heb je de drive om klantenrelaties op- en uit te bouwen

Je bent oplossingsgericht die en vindt technologie leuk

De norm hou je niet alleen in stand, je wil hem keer op keer verslaan waardoor je onze performance naar een hoger niveau tilt

Je ziet het grotere plaatje met een lange termijn focus en je houdt een hoog tempo aan, soms op het ongeduldige af

Je hebt uitstekende communicatie skills met alle culturen binnen je team, bij klanten en de grotere Mainfreight groep

Je wil een carrière uitbouwen in een internationaal en ambitieus bedrijf

Air & Ocean kennis en ervaring is een plus maar geen vereiste.
We bieden jou:
• Toegang tot een wereldwijde business die het belangrijk vindt dat jij een leuke en spannende carrière hebt
• Toegang tot trainingen, coaching en advies
• Een echte kans om te groeien binnen een bedrijf dat aansluit bij jouw normen en waarden
• Toekomstige internationale reismogelijkheden
• Tot slot: hebben we de eindeloze carrièrekansen al genoemd...?!
Frequently Asked Questions
What we do?
As a part of Mainfreight, you can expect to be helping some of the world's largest brands become more competitive and efficient. Being a strategic supply chain partner means Mainfreight helps customers get their products from the manufacturer to the end-user in the smartest, most cost-effective way.

Our business can be broken down into three core areas:
Who we are?
It all started in 1978 with a couple of free-thinking entrepreneurs who didn't care much for rules. As a start-up they challenged the establishment and always took care of their own. Years later, that rebellion and people-first philosophy is still deeply ingrained in our DNA. In 2011 Mainfreight acquired the business of Wim Bosman Group providing further opportunities to expand Mainfreight's international global network with branches throughout Europe.

We have a 100-year vision, that means every person and every decision we make today will leave an imprint on this company now and for 100 years to come. This long-term vision guides us as a business and determines both our decisions and actions every day.

As we extend our operations across the major trading nations of the world, we continue to stand out for the right reasons. It is our uncompromising quality, agility and unique culture which sets us apart.
What is the working culture like?
We are a very flat structured organisation. We have open plan offices and management sit in amongst the team. We do not use the "s" word (staff) and refer to everyone as Team – everyone has a part to play in moving Mainfreight forward and meeting our targets and goals.

We believe in working hard but we also have fun and a laugh while we do it. Our team is empowered to make decisions and have a say in how we do things.
How will my career progress?
Our philosophy is to recruit and 'grow' our own people, rather than hire people from other businesses. That is why we invest in and manage the long-term growth and development of our people, right from the start.

Once you have learnt the fundamentals of Mainfreight on the operations floor, you will move into other areas of the business where you will get the right mix of autonomy and support. We believe that smart people can learn the specifics of any role so our focus is on helping you develop personal and professional skills that will allow you take on any role in the business.

We are an ever-changing business and we are constantly reviewing new ways to help our team develop the world-class skills that will lead our business into the future.
What Training and Development do you offer?
We understand that our biggest asset is our people and that our growth as a business is only limited by our ability to grow our own people. Our training and development strategy reflects this with structured induction, training and development. The Mainfreight difference is that we focus on helping you develop the professional and personal strategies, tools and life skills to step into any role in the business, anywhere in the world.
Our ongoing team development programs around the world currently includes:
A full induction program
Learning the business from the operations floor-up
Structured leadership programmes
Personal development courses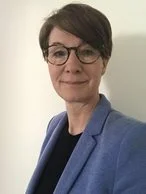 Annick Brokken | Training & Recruitment officer
T: +32 59 400 539
E: careers@be.mainfreight.com