Ready to start your Mainfreight adventure?

26 April 2021
Assistant(e) d'Exploitation
Transport | Paris, France

L'ambition de Mainfreight est d'accompagner ses clients dans leur développement local et international grâce à la conception et à la mise en place de solutions en messagerie palettisée, lots partiels et complets France et Europe. Dans le cadre de son développement Mainfreight recherche un(e) assistant(e) d'exploitation pour son Siège Social basé à Mitry Mory (77).
Votre rôle
Dans un contexte BREXIT, notre entreprise connaît une véritable croissance d'ordre économique et humaine, en effet, dans un objectif de maintien de notre qualité de service, nous recherchons pour l'Equipe Exploitation Route Europe de notre agence de Mitry Mory (77) pour étoffer celle-ci.

Il semble bon de préciser que depuis le 1er janvier 2021, le BREXIT est venu modifier les procédures en terme d'importation/d'exportation de marchandises palettisées; de ce fait, la collecte informations et documents auprès des importateurs s'est intensifiée.
Vous participerez au traitement et au suivi des opérations imports et/ou exports route Grande Bretagne en lien avec l'Agent de Transit responsable du Pôle.
- Montage et suivi des dossiers import/export
- Prise de contact avec les importateurs/exportateurs pour la collecte des éléments/documents nécessaires au dédouanement de la marchandise
- Relance clientèle et suivi des dossiers bloqués
- Suivi qualité en cas de réclamation éventuelle

Votre objectif est d'assurer au client la meilleure qualité possible.

Cette liste n'est pas limitative et vous êtes acteur de votre évolution grâce à votre prise d'initiative et votre envie de faire évoluer notre entreprise.
Vous travallerez au sein d'une équipe Grande Bretagne composé d'une dizaine de personnes aujourd'hui, vous serez au quotidien aux côtés de l'Agent de Transit responsable d'une ligné dédiée.
En tant Assistant(e) d'Exploitation :

Vous êtes dynamique et pugnace
Vous êtes organisé et rigoureux
Vous avez un gout prononcé pour la fonction commerciale
Vous aimez travailler en équipe
Vous êtes capable de mener une discussion en anglais

Ce que vous pouvez attendre de nous :

Un environnement de travail agréable
Des outils adaptés à vos besoins
Un accompagnement permanent
Un système de rémunération attractif
Frequently Asked Questions
What we do?
As a part of Mainfreight, you can expect to be helping some of the world's largest brands become more competitive and efficient. Being a strategic supply chain partner means Mainfreight helps customers get their products from the manufacturer to the end-user in the smartest, most cost-effective way.

Our business can be broken down into three core areas:
Who we are?
It all started in 1978 with a couple of free-thinking entrepreneurs who didn't care much for rules. As a start-up they challenged the establishment and always took care of their own. Years later, that rebellion and people-first philosophy is still deeply ingrained in our DNA. In 2011 Mainfreight acquired the business of Wim Bosman Group providing further opportunities to expand Mainfreight's international global network with branches throughout Europe.

We have a 100-year vision, that means every person and every decision we make today will leave an imprint on this company now and for 100 years to come. This long-term vision guides us as a business and determines both our decisions and actions every day.

As we extend our operations across the major trading nations of the world, we continue to stand out for the right reasons. It is our uncompromising quality, agility and unique culture which sets us apart.
What is the working culture like?
We are a very flat structured organisation. We have open plan offices and management sit in amongst the team. We do not use the "s" word (staff) and refer to everyone as Team – everyone has a part to play in moving Mainfreight forward and meeting our targets and goals.

We believe in working hard but we also have fun and a laugh while we do it. Our team is empowered to make decisions and have a say in how we do things.
How will my career progress?
Our philosophy is to recruit and 'grow' our own people, rather than hire people from other businesses. That is why we invest in and manage the long-term growth and development of our people, right from the start.

Once you have learnt the fundamentals of Mainfreight on the operations floor, you will move into other areas of the business where you will get the right mix of autonomy and support. We believe that smart people can learn the specifics of any role so our focus is on helping you develop personal and professional skills that will allow you take on any role in the business.

We are an ever-changing business and we are constantly reviewing new ways to help our team develop the world-class skills that will lead our business into the future.
What Training and Development do you offer?
We understand that our biggest asset is our people and that our growth as a business is only limited by our ability to grow our own people. Our training and development strategy reflects this with structured induction, training and development. The Mainfreight difference is that we focus on helping you develop the professional and personal strategies, tools and life skills to step into any role in the business, anywhere in the world.
Our ongoing team development programs around the world currently includes:
A full induction program
Learning the business from the operations floor-up
Structured leadership programmes
Personal development courses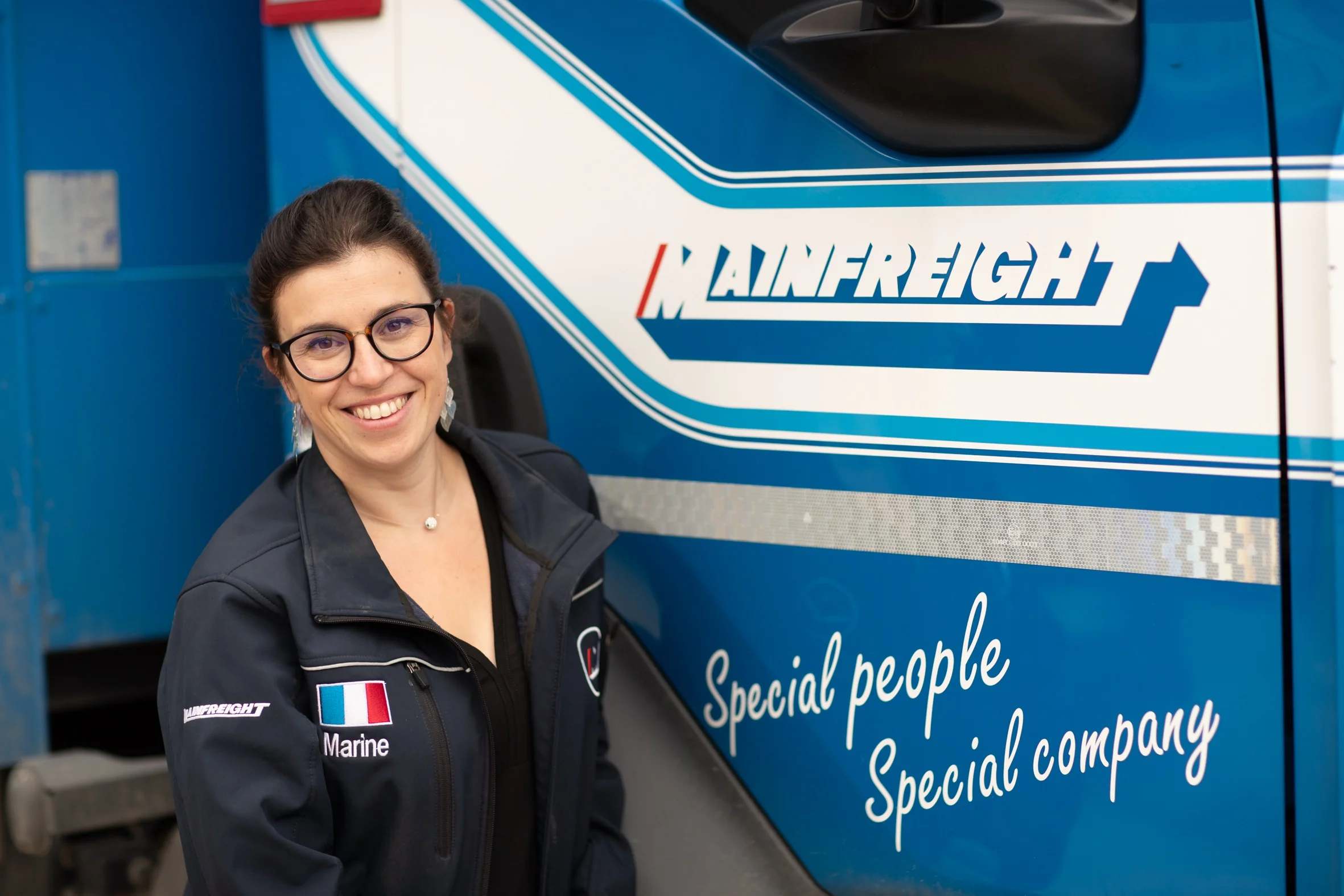 Marine Deniau | HR Manager
T: +33 160 217 409
E: careers@fr.mainfreight.com